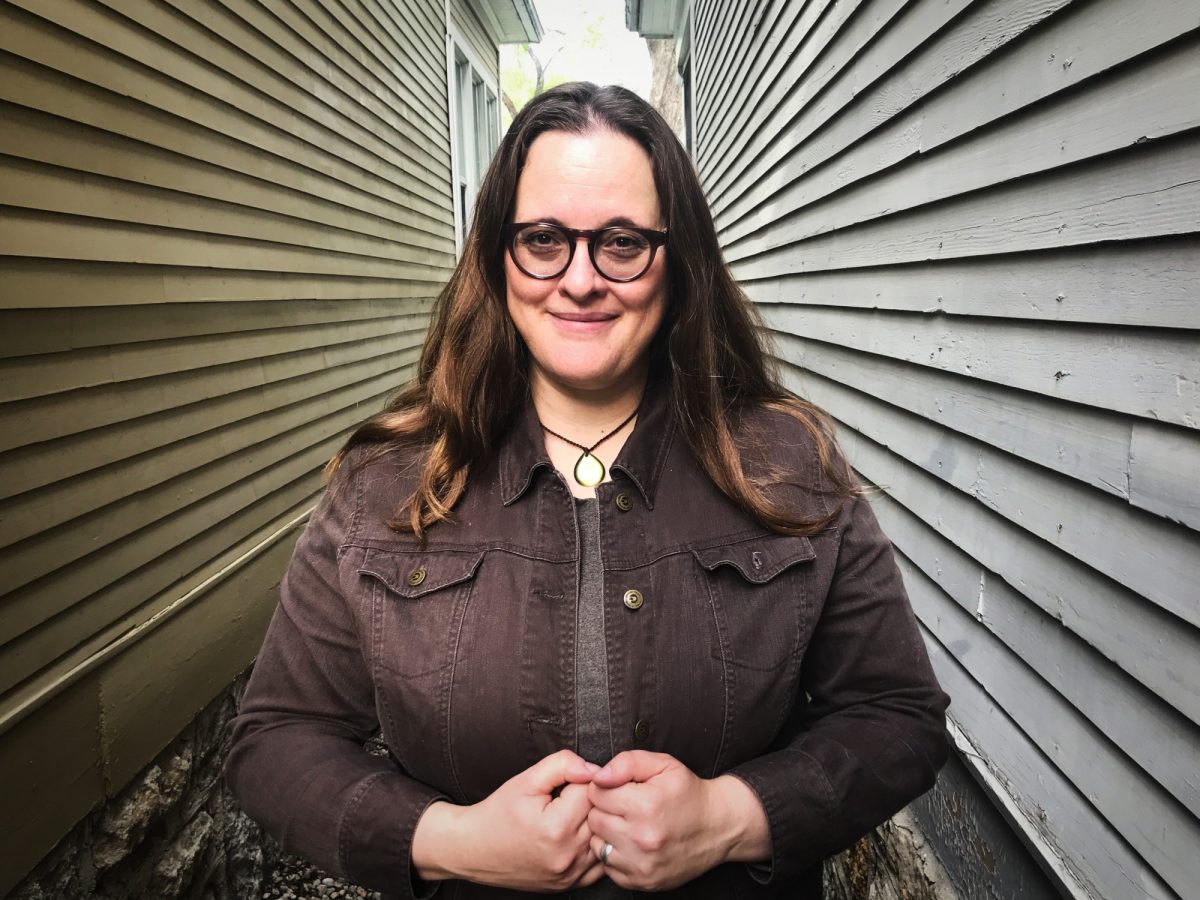 Nature enthusiast latest Writer-In-Residence
Centre for Creative Writing and Oral Culture welcomes Ariel Gordon
January 31, 2022 —
Ariel Gordon is the newest Writer-In-Residence at The Centre for Creative Writing and Oral Culture (CCWOC) at the University of Manitoba. Gordon will work with students, faculty, staff, alumni and members of the public from February to April 2022.
Ariel Gordon (she/her) is a Winnipeg/Treaty 1 territory-based writer, editor, and enthusiast. Her most recent books are Treed: Walking in Canada's Urban Forests (Wolsak & Wynn, 2019), a collection of essays that combines science writing and the personal essay, and TreeTalk (At Bay Press, 2020), a public poetry project where Ariel hangs poems in trees and asks passersby to add their thoughts, ideas, and secrets. She is also the ringleader of Writes of Spring, a National Poetry Month project with the Winnipeg International Writers Festival that appears in the Winnipeg Free Press. Gordon's ability to connect nature, science and writing likely stems from her studies (she holds a Bachelor of Science in biology from the University of Winnipeg and a Bachelor of Journalism from the University of King's College) and a general curiosity to explore our world and share her findings.
Gordon is excited to work with the U of M community. "I am over the moon to be CCWOC's Writer-In-Residence. Over the past ten years, there have been so many great writers in this chair, that have contributed to the literary culture at the University of Manitoba and the wider writing and publishing community in Winnipeg. Hopefully, I'll continue that tradition. I'm looking forward to working with writers of all ages and experiences," said Gordon.
"Ariel writes beautifully, speaks passionately and loves the world she encourages us all to notice," says Jocelyn Thorpe, CCWOC Director. "She also makes writing accessible, showing us that it is not simply a talent but a skill that can be developed. We are so very lucky to host her at the U of M as Writer-In-Residence. Ariel is the ideal kind of expert: the kind who is fun and honest, who hangs poems from trees and who genuinely wants to get other people paying attention, thinking and writing."
Activities for the Winter 2022 residency will take place virtually. "Like many of us, I miss the University of Manitoba community, the places and faces that make an institution feel like home," said Gordon. "Though it's hard to know what the next few months will hold, in terms of the pandemic, we'll gather however we can during this residency, taking literature like medicine."
WELCOME EVENT
CCWOC will welcome Ariel Gordon to the University of Manitoba at a virtual event where she will offer a reading from her book Treed: Walking in Canada's Urban Forests about climate change and trees. Award-winning poet and UM professor Alison Calder and Master's student Lucie von Schilling will deliver guest readings. All are welcome. If you would like to attend this free event, email ccwoc [at] umanitoba [dot] ca to rsvp. The Zoom link will be emailed out the day before the event.
Welcome Event
Friday, February 11, 2022
10:00 am – 11:15 am CT
Email ccwoc [at] umanitoba [dot] ca to receive the Zoom link.
WRITING WORKSHOP
Gordon is hosting a free writing workshop throughout the residency on 'Dispatches from the World'. Workshop description: Wild turkeys roaming the back alleys of Wolseley. Coyotes running down Portage Avenue. Kingfishers divebombing Bunn's Creek. What does it mean to slow down and pay attention to the urban ecosystem? What lives there?
In this workshop, we will be focusing on close observation of urban nature. Participants will work on a two-week cycle, where the first week sees them go for a walk/ride the bus/look out their windows/sit on a bench and write about what they see/hear/smell/taste. They will create a 1-2 page piece of writing, which they will send to Ariel for feedback. In the second week, participants will do a second draft of their piece, which will be workshopped with the group. This workshop is applicable for writers of all levels and genres.
Dispatches from the World
February 17, March 3, March 17, March 31, April 14, April 28
2:00 pm – 4:00 pm CT
Registration for the online workshop is limited to 12 spots. Email ccwoc [at] umanitoba [dot] ca to register.
INDIVIDUAL WRITER CONSULTATIONS
As part of Gordon's role, she will be available virtually by appointment to writers of all levels from February 11 to April 30. To consult with Gordon, students, faculty, staff, alumni and members of the public are encouraged to contact her by email to arrange a free meeting.
For more information about any of these programs and events, please contact the Centre for Creative Writing and Oral Culture at ccwoc [at] umanitoba [dot] ca.