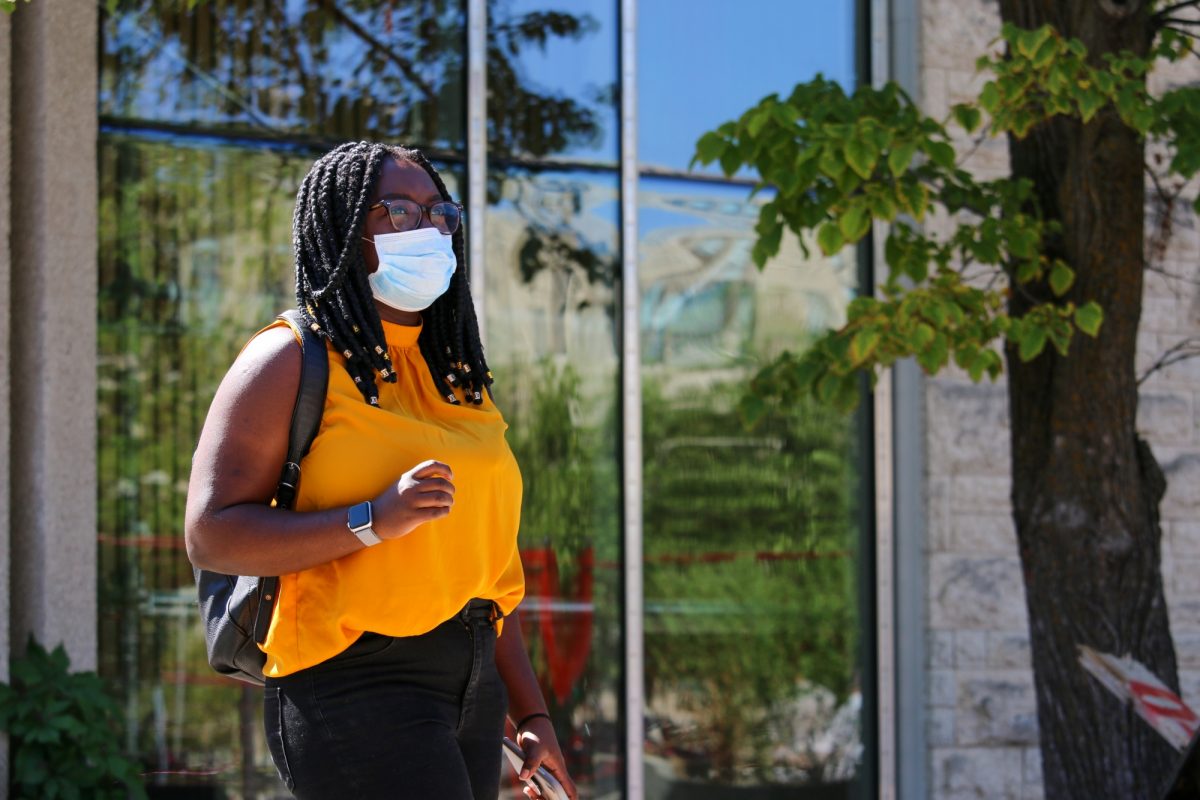 Masks now required at UM, even while physical distancing
See updated mask requirements, mask distribution times and locations, applies to all UM campuses
UPDATED Oct. 14
In order to protect our UM community, the wearing of masks is now mandatory on all UM campuses. This applies when indoors at all times on UM campuses even when physical distancing is possible. The only exceptions are for short periods of time when someone is eating or drinking while physically distanced from others; if someone is alone in their office and physical distanced from others; or during strenuous exercise in UM physical activity centres.
Medical reasons for exemptions from mandatory masks use are limited, and so it is anticipated that these requests will be rare. When medical documentation is provided to support a request to accommodate an exemption, these exemptions will be accommodated to the extent that the university is able to while balancing the need to minimize the risk of COVID-19 transmission to other members of the university community.
The Province of Manitoba also announced that "Manitoba's public health officials will be elevating the #RestartMB Pandemic Response System level for the Winnipeg Metropolitan Region to Restricted (orange) effective Sept. 28, with new measures being put in place to help slow the spread of COVID-19". This includes the directive that "masks will be mandatory in all indoor public places in these communities."
Distribution of cloth masks
Faculty, staff, and students will be given a reusable cloth mask. Please note that due to limited quantities, no more than 2 masks per person are available.
View this video to see how to properly wear a non-medical mask. Or visit the UM COVID-19 website for more information.
Pickup details are below.
Fort Garry Campus:
At the Fort Garry campus, students and staff may pick up their masks at the following locations:
Welcome Centre from 10 a.m. to 2 p.m. M-F

Elizabeth Dafoe Library from 10 a.m. to 6 p.m. M-F

Science and Technology Library from 10 a.m. to 6 p.m. M-F
Bannatyne Campus:
The requirement to wear masks took effect August 24, 2020. Pick up locations and hours of operation are:
Brodie Centre main doors, 727 McDermot Avenue from 5:30 a.m. to 5:30 p.m.
Dentistry building, 780 Bannatyne Avenue from 7:00 a.m. to 4:00 p.m.
Apotex side entrance, 750 McDermot Avenue from 6:30 a.m. to 4:00 p.m.
Rehab Sciences building, 771 McDermot Avenue from 7:00 a.m. to 4:00 p.m.
As health and safety is our overarching priority, strict protocols are being followed at these stations including plexiglass shields, hand sanitizing stations, signage and fencing to ensure directional consistency and socially distanced flow throughout.
In order to avoid congestion, you should pick up your masks when you are coming to campus(es) to avoid making a special trip.
More on mask use
As Manitoba's only research intensive university, UM plays an important role in maintaining the health and safety of our campuses and the broader community. By requiring masks to be worn in all of its facilities, the university is demonstrating a clear commitment to support Manitoba's efforts to flatten the curve of COVID-19.
When properly used, face masks covering the nose and mouth help to limit the dispersion of coughs/sneezes; reduce the frequency of face touching; and have been shown to reduce the spread of COVID-19 in combination with social distancing and good hand hygiene. The decision to require masks on campus was recommended by UM's COVID Recovery Working Group and approved by the Vice-President (Administration) and the President.
Remember: stay home if you are feeling unwell
Employees and students should self-monitor for COVID-19 symptoms, and ensure they are able to answer "no" to the following questions based on the Shared Health Manitoba screening protocol:
Do you have any of these symptoms: cough, fever, difficulty breathing, sudden loss of smell?
Have you been out of the country in the last 2 weeks?
Are you in contact with someone who has COVID-19?

If you answer yes to any of these questions, you must stay home.
Read more about the Recovery Working Group and phased approach to recovery of approved activities. For more information for students, staff and faculty, visit the COVID-19 webpage.