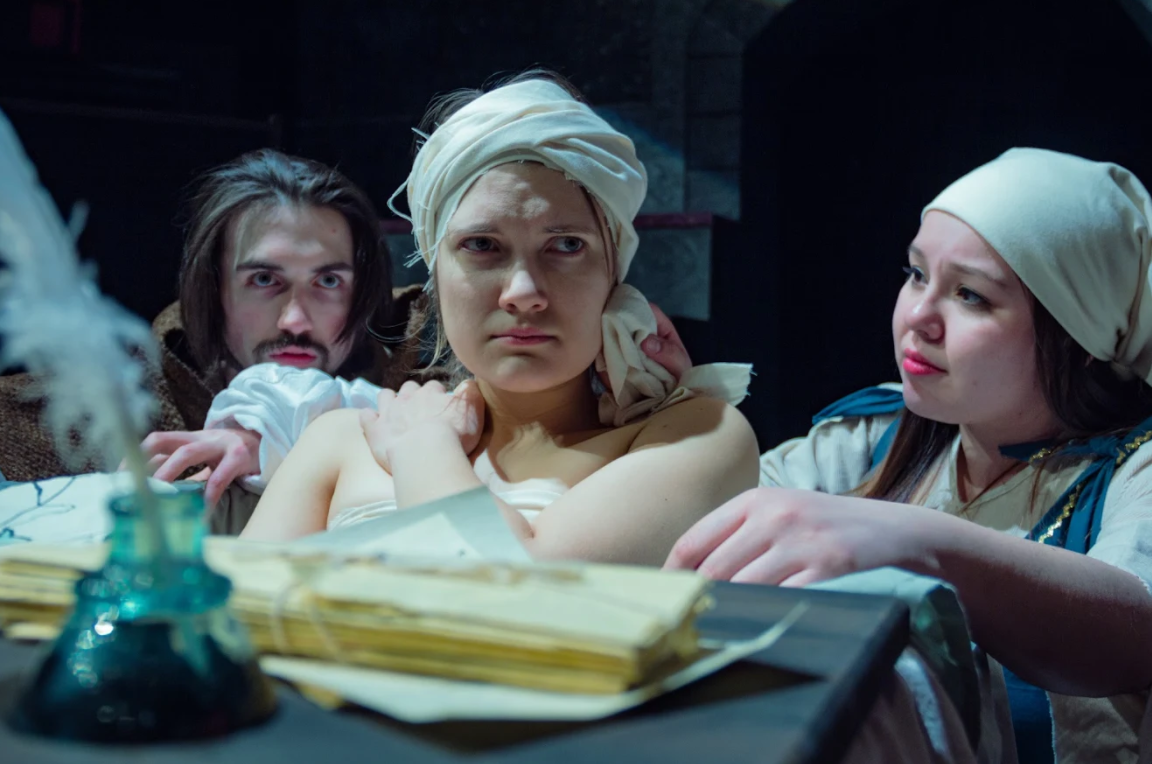 Inspired events meet theatre
Black Hole Theatre Company presenting a show inspired by actual events and people
March 23, 2018 —
The Black Hole Theatre Company presents their final show of the 2017-18 season starting March 21.
The Persecution and Assassination of Jean-Paul Marat as Performed by the Inmates of the Asylum of Charenton Under the Direction of the Marquis de Sade (Marat/Sade) is a play inspired by real-life events. Events take place in both 1793 and 1808.
The Marquis de Sade was incarcerated at the Charenton Asylum which was run by a man named Coulmier, the first person to use drama and art therapy to treat his patients. At Charenton, Sade wrote plays and directed them using patients as actors and these productions were public stagings.
Peter Weiss, playwright of Marat/Sade, imagined a play about Sade, Coulmier and his patients staging a play at Charenton inspired by events of the French Revolution and, in particular, the assassination of the radical French writer Jean-Paul Marat and his secular "martyrdom" at the hands of Charlotte Corday.
"Audience members coming to our production will be entering into the asylum in 1808 (the "present" day) to join fellow aristocratic audience members in watching the patients stage Sade's play about the killing of Marat fifteen years earlier in 1793," said the show's director, professor Bill Kerr. "If that isn't enough, Sade has also added a level of discussion and contest between he and Marat which take place in neither time but which allow for a rich and uneasy examination of ideas and actions."
Putting this show together was no easy task for the show's creative team. Forty-two actors are in the cast, which Kerr says requires a lot of space in addition to the settings of the asylum and the theatre.
The play also has musical elements which added extra rehearsals for singing and dancing. For the first time, the John J. Conklin Theatre in the Gail Asper Performing Arts Hall will be slightly thrust to allow room for choreography, sets and performance space.
"Peter Weiss combines elements of Brecht's Epic Theatre and Artaud's Theatre of Cruelty in this piece," said Kerr. "This combination demands first and foremost an intense and many-layered experience using all theatrical tools available. Thus it contains multiple styles of performance including ritual, narration, song, dance, drama, melodrama, low comedy, debate and on. Secondly that experience will provoke us to re-examine our beliefs and question any and all assumptions about society without providing answers."
As Sade says in one edition:
"Our play's chief aim has been – to take to bits
Great propositions and their opposites,
See how they work, let them fight it out."
This show also features an original music score from University of Manitoba theatre student Cuinn Joseph.
Marat/Sade plays at the John J. Conklin Theatre at the Gail Asper Performing Arts Hall on select dates and times from March 21-31, 2018. For show times and ticket information, visit the Black Hole Theatre Company's website.