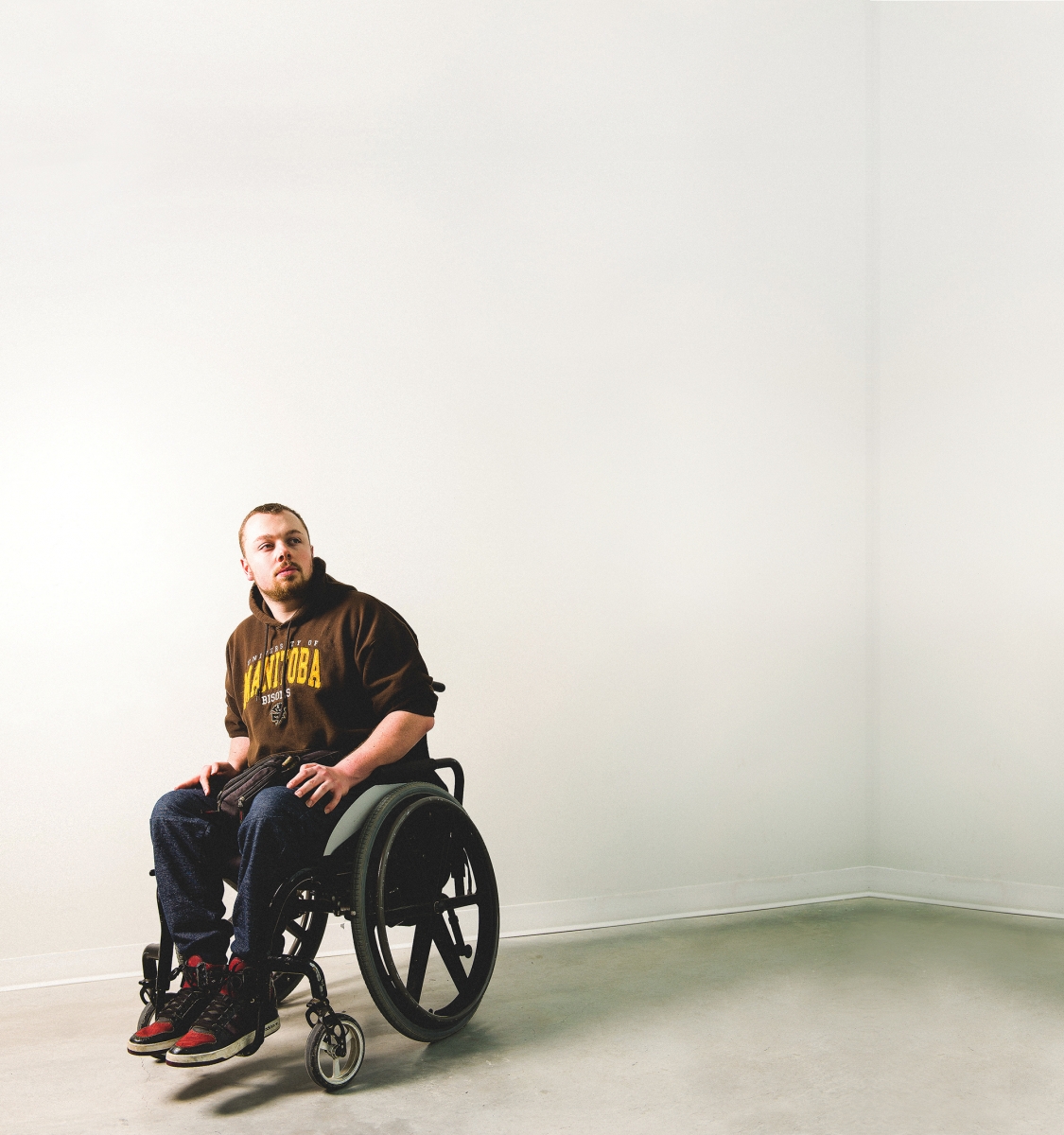 At 10 years old, Andrew Fenwick stared up in frustration at the TV in the intensive-care unit that for hours taunted him to make a move.
Septic shock from a ruptured appendix had left him paralyzed and, in the short term, unable to speak or breathe on his own. He couldn't call out to the nurse, who didn't realize the DVD player was stuck on the intro screen, its opening graphic prompting him to launch superhero movie Hulk.
"It was just the play screen over and over…. That is one of the worst things I remember," says Fenwick [BA(Adv)/19].
In the years since, the 24-year-old has encountered a million more frustrations and navigated his way around them. When he was accepted into law school at UM this fall—bringing him closer to his goal of working in labour law, advocating against the wrongful dismissal of employees with disabilities—it felt like a big win but didn't come without its own cloud.
Fenwick says imposter syndrome crept in, dogging him with thoughts that someone would suddenly realize he shouldn't be there.
"We definitely all feel like sometimes we don't belong. Having a disability amplifies that feeling," he says.
What helped change Fenwick's mindset was thinking of the late Ken Tacium [BA/81, LLB/85] and how he did it. A quadriplegic following a car accident in his early 20s, Tacium was a student in the Faculty of Law during the 1980s—when accessibility was far less of a conversation—and went on to be a senior partner at Tacium, Vincent and Orlikow. Once a force on the football field and hockey rink, Tacium channelled this energy into his career.
Following his death in 2012, his friends and family established the Ken Tacium Memorial Scholarship to support students who have overcome significant obstacles in pursuit of their university studies. Fenwick, a recipient, says he would have liked to have met Tacium—maybe they would have cracked jokes together to bring levity to their every day, like how tough Winnipeg winter is navigating the snowpack in a wheelchair.
"He might have given me some pointers. I think we would've had a good conversation," says Fenwick. "Just the connection to his story has really increased my confidence. I use his story lots, every day."
"I'm grateful for how quickly I was able to connect with my colleagues at law school. I really feel like this is an open and helpful environment."
Andrew Fenwick