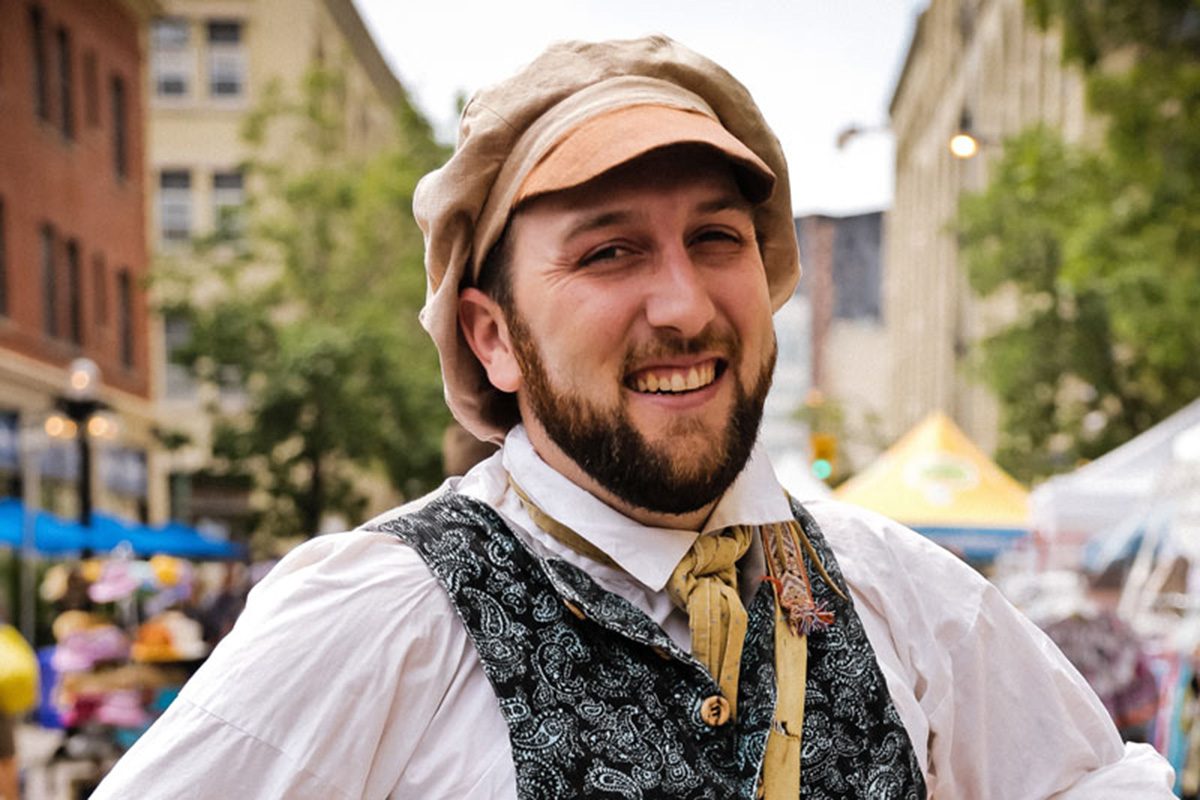 Historical storyteller (and voyageur) latest Writer-In-Residence
Centre for Creative Writing and Oral Culture welcomes Rob Malo
December 16, 2019 —
Rob Malo is the newest Writer-In-Residence at The Centre for Creative Writing and Oral Culture (CCWOC) at the University of Manitoba. Malo will work with students, faculty, staff, alumni and members of the public from January to March 2020.
Raised in a Franco-Manitoban Métis family, Malo brings his love for his neighbourhood and province to the U of M. Recognized by Storytellers of Canada as being a Master Storyteller, Rob draws on his background as an Educational Programs Developer at the Manitoba Museum and as a Professor in the Tourism Department of l'Université de St. Boniface to connect with audiences through storytelling, music and song. Malo has been awarded Certificates of Excellence from Interpretation Canada for his live presentations and a digital educational tool available for teachers through the Province of Manitoba DREF website.
I hope to be a catalyst for creative thought.
– Rob Malo
Malo has exciting plans for his time with the U of M community. He shared, "I hope to be a catalyst for creative thought with the students, staff and seminar participants during my residency. When I see individuals empowered with the knowledge that they too have a story (or stories) worth sharing, they light up. This is what I look most forward too; I hope to hear stories, to learn from others, so that we may better know ourselves."
"Rob's work shows how storytelling is education is community-building," says Jocelyn Thorpe, CCWOC Acting Director. "His diverse repertoire as master storyteller, museum educational programs developer, poet, and juggler allow him to communicate widely to audiences of all kinds. His energy and enthusiasm help make learning fun, and he even has a cartoon alter ego, TiBert le Voyageur, who is funny, bilingual and a beatboxer. His creativity and the interdisciplinary character of his work make him an excellent fit at CCWOC. We hope students of all ages will listen to him perform and take the opportunity to learn from him during his time as Writer-In-Residence. We are thrilled to host him for the Winter term!" Thorpe encourages aspiring writers and storytellers to take this opportunity to learn and benefit from Malo's advice.
WELCOME EVENT
CCWOC will welcome Rob Malo to the University of Manitoba at a reception where he will give an inaugural reading. All are welcome to this free event.
Monday, January 20, 2020
12:30 pm – 2:00 pm, Room 108, St. John's College
INDIVIDUAL WRITER CONSULTATIONS
As part of Malo's role, he will be available by appointment to writers of all levels from January 7 to March 31.
Tuesdays, 1:00 pm – 4:00 pm
To consult with Rob Malo, students, faculty, staff, alumni and members of the public are encouraged to contact him by email to arrange a free meeting.
WRITING WORKSHOP
He will also be hosting a free 6-week writing workshop throughout the residency entitled From Oral Story to Production
During this weekly series, a process of creating or adapting an existing oral story is then followed by the creation of visual storyboards. Participants will then use their storyboard to analyze and further refine their created or adapted oral stories. The newly created storyboard can now be used to produce written versions of the stories, or a graphic novel, or play, or video or any other form of story production.
Register for the workshop by emailing the Centre at ccwoc [at] umanitoba [dot] ca. Note: If you happen to miss the first session, you are still very welcome to join the group.
Tuesdays, January 28 to March 3
7:00 pm – 8:30 pm, Room 391, University College
Registration required.
STORYTELLING CIRCLES – NEW!
Malo will also host two Storytelling Circle events during the residency. These circles are open to all and will provide members of the workshop series along with members of the Winnipeg storytelling community the opportunity to share their stories with the public. Métis Elder, Nancy Gouliquer will be the special guest. No registration required.
Tuesday, March 17 & Tuesday, March 24, 2020
7:00 pm – 8:30 pm, Room 391, University College
For more information about any of these programs and events, please contact the Centre for Creative Writing and Oral Culture at ccwoc [at] umanitoba [dot] ca.