Emerging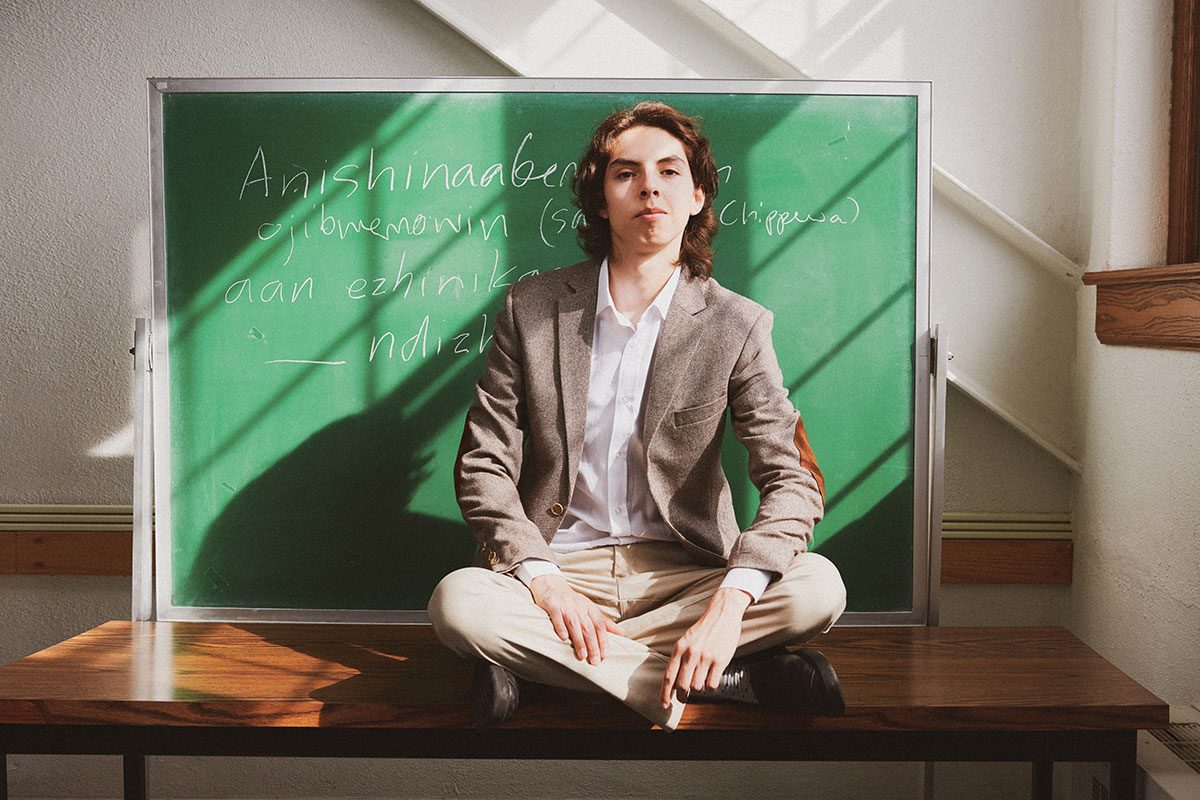 Head of the Class
Fall 2019
He remembers how nervous he was his first day at the University of Manitoba. Backpack in tow' he navigated through the Isbister Building and found his classroom. Students' all older than him' had begun to trickle in. The 19-year-old took his place at the front' wearing a carefully chosen blazer and bowtie to offset his boyish looks.
"My name is Aandeg Muldrew and I'll be your instructor."
It was two years ago that Muldrew became the university's youngest sessional instructor' teaching introductory Ojibwe at the Faculty of Arts Language Centre.
"I had my syllabus and all my handouts with me' and I kept thinking I would walk right by the room and miss it'" he says' describing himself as quiet and reserved.
The soft-spoken Winnipegger began learning Ojibwe from his grandmother (or gookum), Patricia Ningewance' when he was 12. The two of them would drive around in her old red Mercedes—which she named Fernando— speaking only in this Anishinaabe language.
He was a natural and became fluent after only a few years' which the proud grandma says is a rarity. Ningewance herself used to teach this course at UM and would bring a young Muldrew to tag along to her lessons.
"It's important to me to know where I come from'" says Muldrew. "It's a sense of pride that I have' to know the language' especially having learned it from her."
The Guinness Book of World Records calls Ojibwe one of the most complex languages on the planet. It's particularly tough to learn since it doesn't borrow from other languages' and there are very few direct translations. The words often have multiple meanings and tend to be long' so pronunciation can be tricky. In Muldrew's class' he breaks it down into manageable bits.
Among his students are Residential School Survivors' who were forbidden from speaking their mother tongue growing up. Ningewance' too' is a Survivor. Speaking Ojibwe has long been viewed as an "act of defiance'" so it can create an added hurdle in class—but one that can also empower' Muldrew says.
"It's very emotional at times. There's a lot of shame about not being able to speak their language. Some have heard it all their lives' but they can't speak it. Nobody taught them."
He and Ningewance were recently invited by the Smithsonian Institution's Center for Folklife and Cultural Heritage in Washington' D.C.' to share their ongoing efforts to bring Indigenous languages back to communities.
Muldrew says part of his responsibility as an instructor is creating a safe and inspiring environment for his students to learn and make mistakes. As they begin to grasp the language' the classroom becomes a place to tell stories and joke around together.
"You always hear people say' 'Oh, it's funnier in Ojibwe.'"