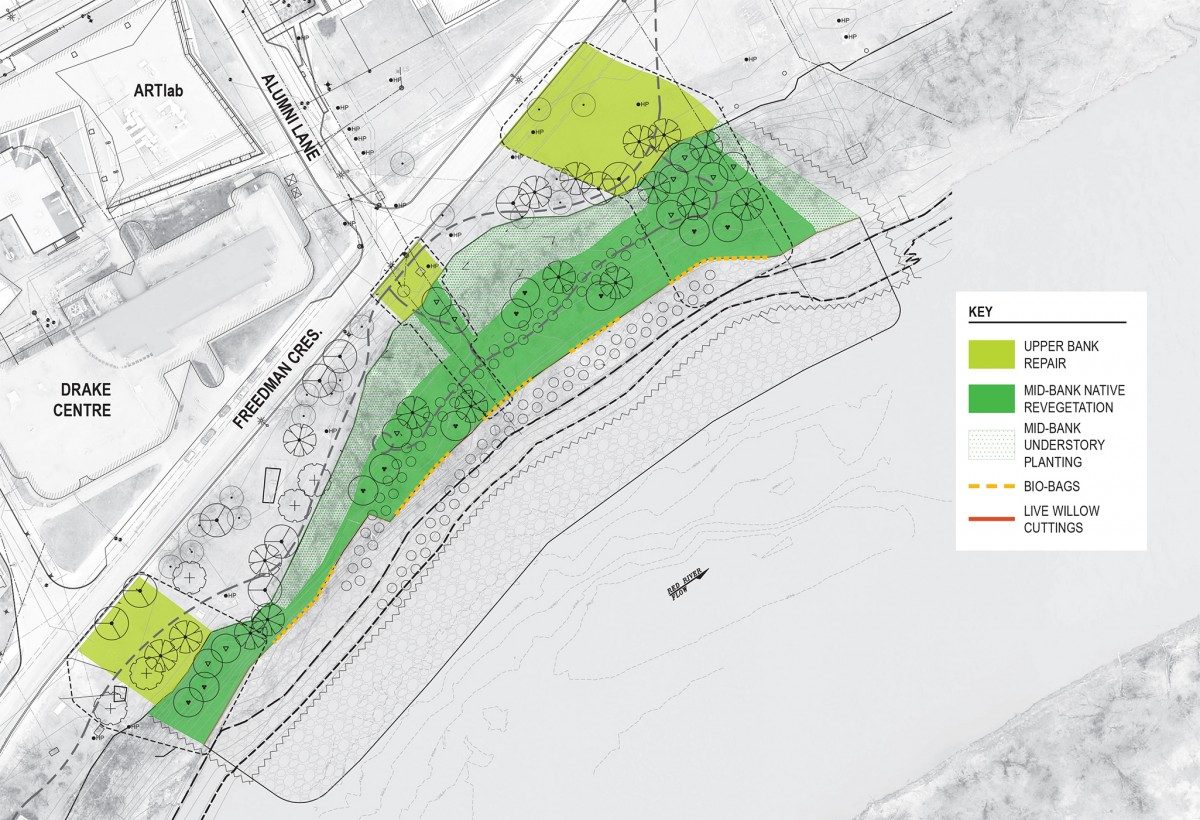 Fort Garry campus riverbank stabilization and infrastructure repair begins
Reforestation and native revegetation included in plans
February 2, 2019 —
An infrastructure project related to riverbank stabilization at the Fort Garry campus is slated. Work will soon commence on the reconstruction of Outfall No. 2 located on the south side of campus near Drake Centre and Alumni Lane. The site is experiencing failed and failing infrastructure.
Outfall infrastructure repair
Outfall No. 2 is part of the Fort Garry campus land drainage network. The land drainage network comprises outfalls, culverts, pipes and related infrastructure. An outfall is the place where a river or drain empties into the sea, a river, or a lake.
A pipe collapse at the outfall in spring 2018 resulted in emergency measures to isolate the damaged pipe and redirect the water overland. Repair work will commence at the end of January to reconstruct the outfall chamber, pipe and related infrastructure.
Riverbank stabilization and corridor reforestation
The project will protect and retain as many trees on the site as possible. A number of trees require removal to complete the riverbank stabilization and pipe installation, along 200 metres of the mid to lower bank. All trees at the site will be protected, recycled or repurposed as finished projects, lumber, art pieces, mulch or plant bedding.
Once the riverbank stabilization is complete, an extensive multi-year reforestation and native revegetation initiative will revitalize the riverbank corridor.
Healthy riparian forests are by their nature resilient to environmental fluctuations and disturbance such as flooding.
To ensure the area's longterm ecological health, reforestation and native revegetation at the site will include planting hundreds of trees and shrubs, installing live woody willow cuttings and bio-bags (jute bags filled with topsoil charged with planting seed mixes) and seeding native grasses and forbs.
A partnership between UM and a local company that works with reclaimed wood, will ensure that all suitable trees are salvaged and prepared for reuse. Possible reuse projects include indoor and outdoor furnishings such as benches and tables, sculpture, wall finishes, general use lumber, etc. Smaller trees from the site will be donated to the UM School of Art for use in the ceramics studio's wood-fired kiln, while unsuitable trees suffering from decay, brush, and stumps will be chipped and used for mulch in planting areas on campus.
The University is also conducting a Riverbank Stabilization Study, a comprehensive study of the campus' nearly 4 km of riverbank frontage. Led by a multi-disciplinary team of engineers, landscape architects, ecologists, and biologists, the study will provide a greater understanding of the riverbank condition, threats, risks and opportunities.
The project team will prepare recommendations towards a 15-year implementation strategy for protecting the riverbank corridor and infrastructure against instabilities and ongoing shoreline erosion. A public engagement event is planned for later in 2019 to gather feedback, which will be integrated into the study findings, conclusions and recommendations. Current conditions of areas of the riverbank can be viewed in the gallery below.