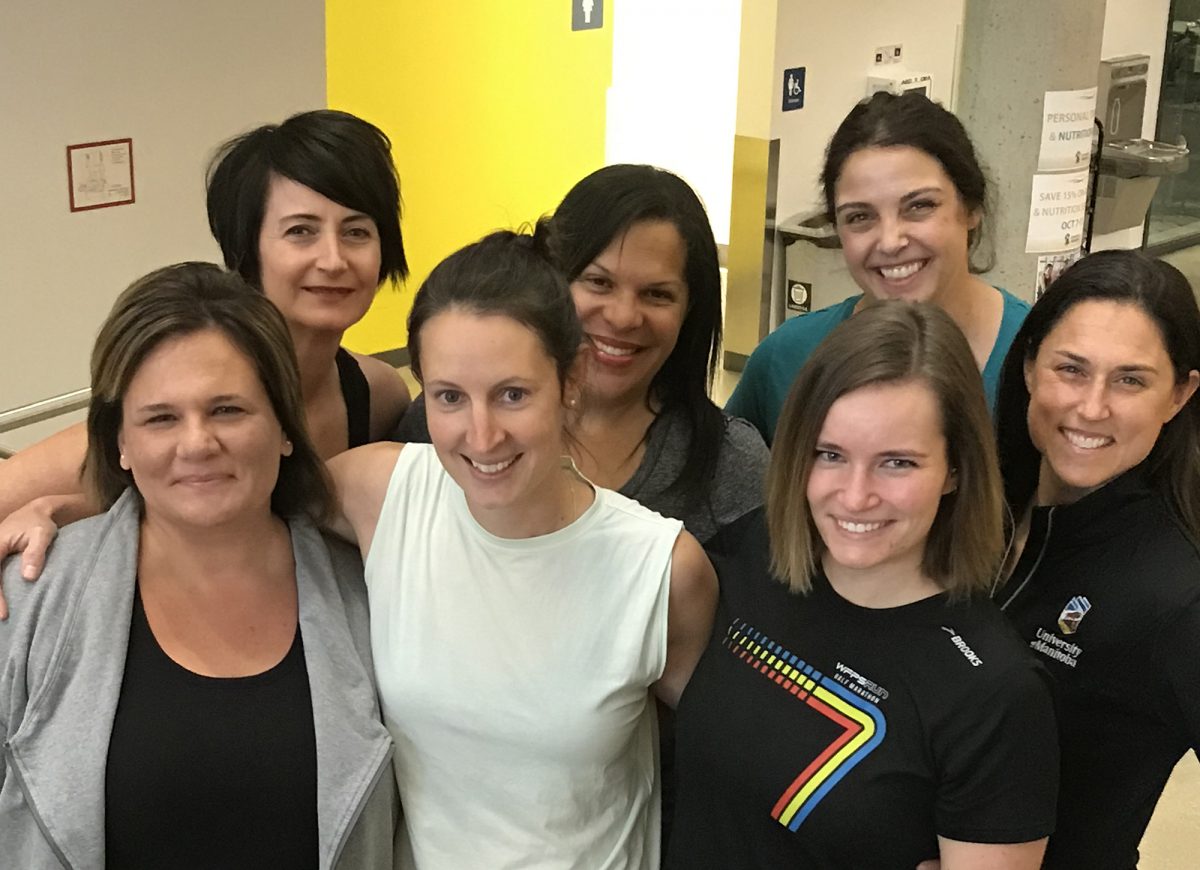 Fitness Champions: Building Healthy Communities at UM
Registration for winter programs opens November 14
November 1, 2019 —
With social isolation on the rise and top-of mind as we head into winter, it's more important than ever to establish connections with others and build communities. An excellent way to connect is through physical activity, and that's what UM Rec Services Fitness Champions have done, and have helped others to do too.
Who are UM Rec Services fitness champions?
Recently, we asked our members to nominate people within the RS community who have motivated them to stay healthy and be active. The response was overwhelmingly positive! We received several inspirational stories about passionate members who have embraced their role as a guiding light for people looking to be a part of a supportive health-conscious community.
You can read more about our fitness champions who are highlighted in the latest Fort Garry activity guide.
Heather Bailey
Heather is the ultimate fitness champion, according to the nominator and fellow fitness champion, Meredith Bara.
"When I plan my weekly workouts, I search for her name on the group fitness schedule to see what she's teaching, and that dictates my agenda! It doesn't matter what class it is, if Heather is teaching, it's going to be fantastic! Her classes are challenging, super fun, and if you follow her lead, you absolutely will get results. It's so easy to work hard in her class!" – Meredith
Jeff Adam
Jeff Adam is a regular group fitness participant and ALC gym-goer who demonstrates how anyone can benefit from group fitness training. Jen Hurrie nominated Jeff and had this to say about him.
"It's been so awesome to see a male make group fitness a regular part of his workout routine. His middle of the class "woos" are always great to give you that little extra motivation needed to get through your set in Ultimate Tabata!" – Jen
Bachu Purohit
Bachu is an early morning icon within the Active Living Centre who's always encouraging others to join him in the early hours of the day. Tanya Angus nominated Bachu. Here's what she had to say.
"Bachu continually spreads the word of health, physical activity and recreation. He's even encouraged some of the other early morning users to get together for social outings regularly throughout the year. I couldn't think of a better Fitness Champion than Bachu." – Tanya
Fair and Legal Practice Team
The Fair and Legal Practice team has each other's backs when it comes to promoting regular physical activity. Heather Bailey nominated the team, sharing how their an example of the benefits of group exercise.
"As an experienced fitness instructor and trainer, I have seen the power of what groups can do for individuals. Knowing you have a team of friends to support you in your fitness pursuits can make even the hardest day or workout manageable and fun. Our legal affairs team truly shows the power of a group, regularly attending classes together, pairing up, sharing equipment and rooting each other on in every class." – Heather
Each fitness champion shares their passion for fitness in their unique way. Still, the foundation of each story is an understanding of the benefits of regular physical activity and a desire to help others understand too.
We're incredibly proud of the RS community and look forward to sharing more fitness champion stories soon. If you'd like to nominate a fitness champion, please email your nomination to Ashley Rees, Recreation Services Membership Coordinator: Ashley [dot] Rees [at] umanitoba [dot] ca.
Would you like to become a fitness champion for the RS community? We have many options for people looking to connect with others on campus, including Instructional Programs, REC Clubs, Intramural Sports, Personal Training, and of course, working out at the Joe Doupe Rec Centre and Active Living Centre fitness floors.
Winter programs and REC Clubs registration opens November 14. Visit uofmactiveliving.ca for more information.