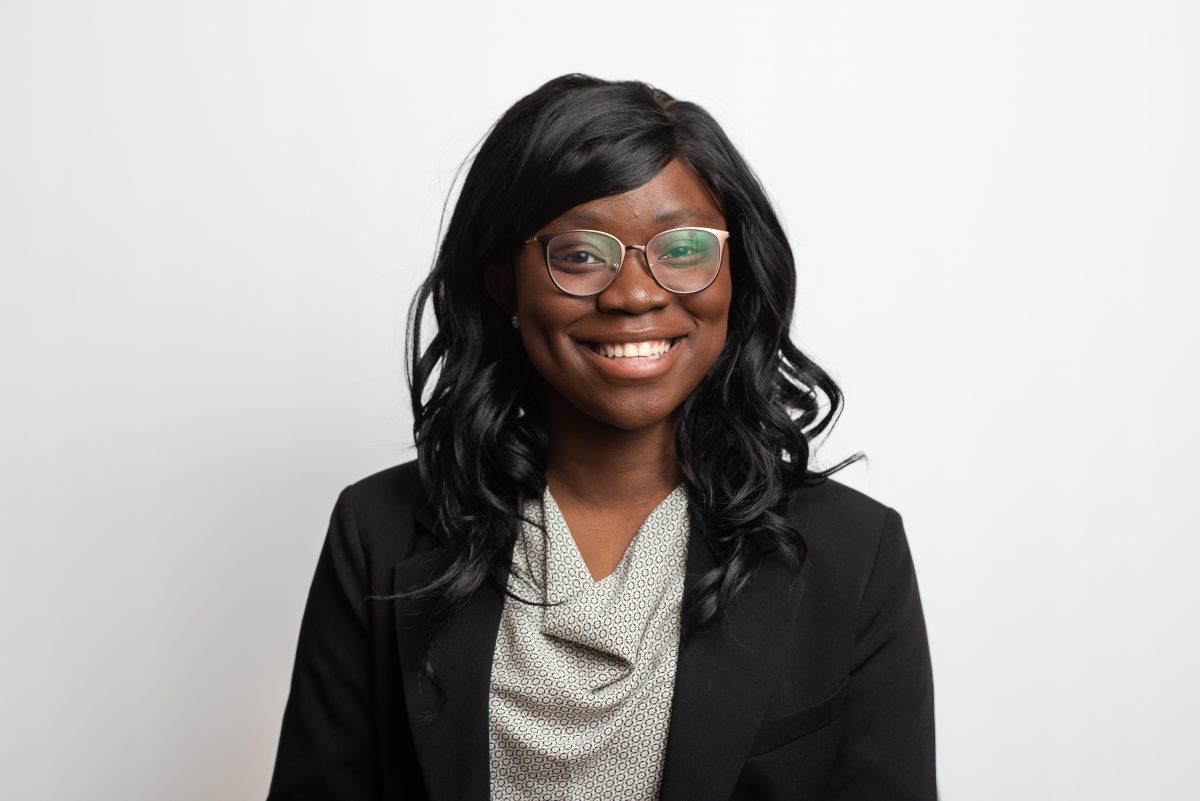 Faculty of Arts student Clèche Kokolo awarded McCall MacBain Scholarship
Second UM student in two years to earn award
April 18, 2023 —
University of Manitoba student Clèche Kokolo will join a global cohort of McCall MacBain Scholars at McGill University.
The fourth-year Political Studies student is one of 20 Canadian recipients of the McCall MacBain Scholarships, the result of a landmark $200 million gift in 2019 by John and Marcy McCall MacBain. Designed to encourage purposeful leadership, the McCall MacBain Scholarships enable students to pursue a fully funded master's or professional degree at McGill, while participating in mentorship, coaching, and a leadership development program.
"I was at work when I received the news after final interviews," said Kokolo. "I screamed and cried in happiness because I couldn't believe it. Honestly, I don't think it has fully sunk in yet that I AM a McCall MacBain Scholar. I am so grateful for this opportunity because it has already changed my life!"
At UM, Kokolo is a student senator, representing Arts students, and is working to launch a mentorship program to make student leadership roles more accessible. She contributes to children's rights advocacy as a youth ambassador, co-chairs a youth working group for women's and children's health, and works part-time as a career coach with the Winnipeg School Division. Kokolo also volunteered with a high school symposium as a camp leader, and served for several years on the mayor's youth advisory council. She is a member of two fellowship programs and was named one of Canada's Top 100 Black Women to Watch for her community work.
"My studies and extracurriculars at the University of Manitoba have allowed me to advocate for students and my larger community," Kokolo says. "It is thanks to these opportunities that I was able to grow as an advocate and as an individual. As I embark on the next step of my journey to McGill, I am taking with me the experiences, skills, life-long friends and community I gained through my time and involvement at UM."
Each McCall MacBain scholar is chosen based on their character, community engagement, leadership potential, entrepreneurial spirit, academic strength, and intellectual curiosity.
"We are thrilled that a UM student has been recognized with this prestigious award for the second year in a row," says Laurie Schnarr, UM's Vice-Provost (Students). "Clèche is an exceptional leader who continues to make a positive impact in the local community and on campus. During a recent discussion with Clèche I was so impressed by her frankness, her commitment to support UM in offering exceptional experiences for a diversity of learners, and her willingness to work with me over the coming weeks to engage other students in these conversations. Congratulations Clèche!"
As a McCall MacBain Scholar, Kokolo intends to enter law school at McGill. "During my professional studies, I will continue to be involved in the community to advocate for social justice and equity," she said. "I hope to further explore, alongside peers, how the law can be used to dismantle barriers faced by marginalized groups and communities."
"Kokolo's selection is a tribute to the time and energy she has put into improving the lives of others," said Natasha Sawh, Dean of the McCall MacBain Scholarships. "Our volunteers looked not only for academic strength, but for leadership qualities like integrity, kindness, grit, and an ability to motivate a team to address tough challenges."
To recognize additional talent, the McCall MacBain Scholarships and McGill University also offered 96 entrance awards ranging from $5,000 to $20,000 each to top candidates who were not selected for the cohort. University of Manitoba students Keziah Brothers and Soomin Han both earned $10,000 finalist awards for being among the top candidates. Altogether, this year's 126 scholarships represent an estimated commitment of nearly $3.3 million in tuition and living costs, which will be complemented by mentorship and leadership development programming.
Applications will open in June 2023 for September 2024 admission.