Field Notes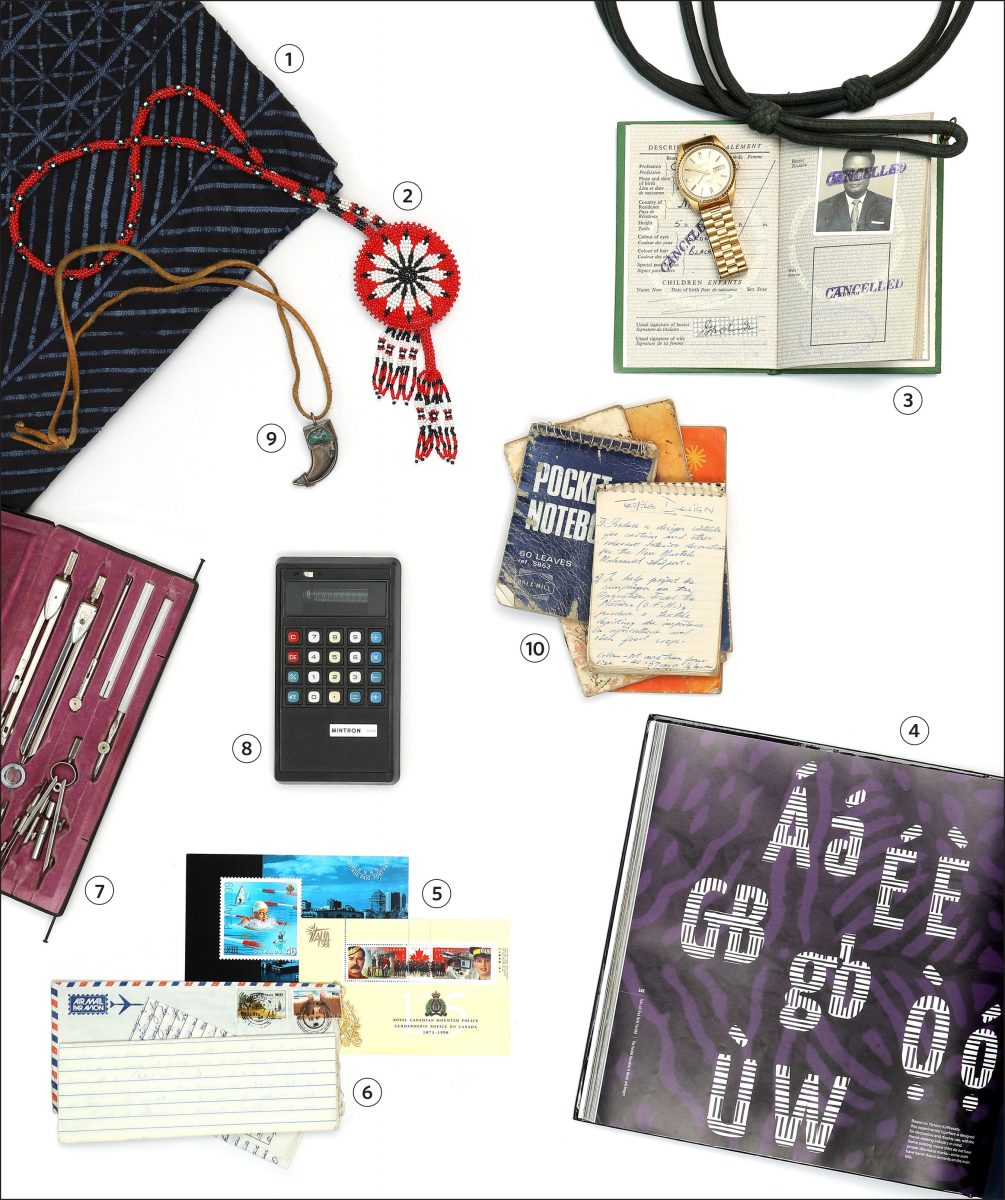 Designing with Purpose
Fall 2019

Items belonging to 'Segun Olude [BFA(Hons)/94]' a Nigerian-born graphic designer and educator who published a guide to his native language' Yorùbá. He created learning tools like posters and pronunciation keys to keep a culture based on oral traditions alive.
No. 1 Indigo fabric sewn by a woman in Ibadan, Nigeria. She's been selling her wares in the market for decades. "It's a month's project to make this."
No. 2 A gift from one of his first friends in Canada; together they explored an abandoned Residential School. "He told me the stories and I've learned a lot since then about what it means."
No. 3 Belongings of his father, who died a few months before Olude left Nigeria in 1989 to study in Canada—"I needed something with me." The service lanyard was part of his dad's uniform as an immigration officer; he eventually retired to be king of their tribe, Imasai.
No. 4 A typeface he developed to better equip Yorùbá communities for the digital world. "Type conveys emotion and attitude. It shouts and it whispers. It can be authoritative or playful."
No. 5 Postage stamps he helped design for the PanAm Games and the RCMP's 125th anniversary. "Recently a friend of mine in Toronto found some and mailed one to me. I'm looking at it, thinking, this looks familiar."
No. 6 Letters from his mother, who considered herself illiterate since she read and wrote only in her language, not English.
No. 7 A pre-digital pen set, to draw perfect lines and circles, which he used while studying graphic design at UM. "Now it's my personal museum piece—a conversation starter."
No. 8 His first electronic calculator, kept for its statement on form and function. "What I love about it is just the simplicity of the design."
No. 9 A bear-claw necklace. When he was a student, Olude's editorial illustration of a broken feather in The Manitoban offended some members of the Indigenous community. There was a town hall meeting. "I came out and apologized. Somebody came from the back, put this on my neck and said, 'You're now a member of the bear clan.'"
No. 10 Notebooks he'd carry in his back pocket from age 15. "Given how quickly an idea fades to oblivion, I force myself to write things down."