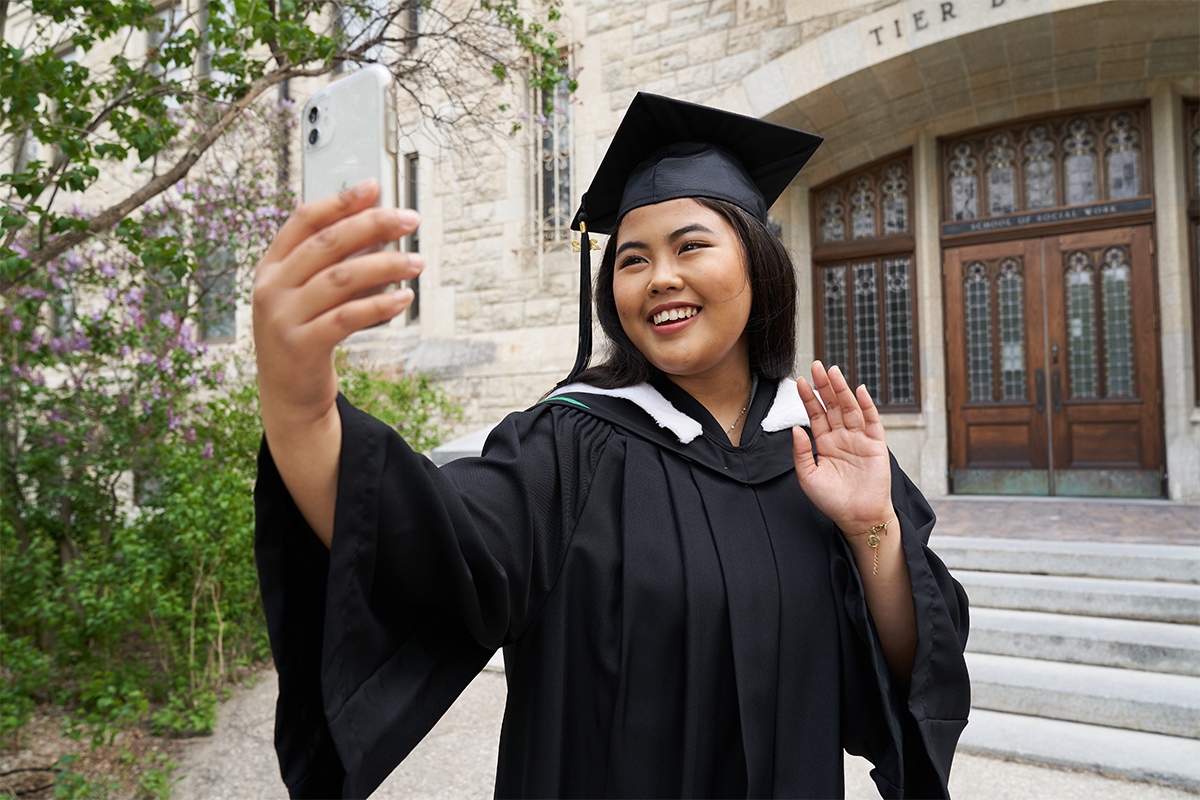 Make your Convocation a day to remember
Our top 10 tips for an awesome experience
October 11, 2022 —
As we approach Fall Convocation ceremonies this year (October 19-20, 2022 for the Fort Garry campus; October 27, 2022 for the Bannatyne campus), we are excited to celebrate another class of UM graduates walking the stage as we commemorate their success. Congratulations to all those who are graduating!
In anticipation of this once-in-a-lifetime moment, here are the top 10 ways to have a great convocation experience.
Arrive on time. While the ceremony will be held in the Investors Group Athletic Centre (IGAC), graduates should report to the James Daly Field House in the Max Bell Centre 60-90 minutes before your ceremony.
Plan ahead and take everything you will need with you. Have your photo ID ready to pick up your procession card, and your gown, hood and mortarboard at the Gaspard table. Otherwise, we recommend leaving your valuables with a friend or family member.
Look your best. Convocation is a formal occasion after all, meaning dress clothes are recommended even if under your gown and hood. Indigenous students can wear traditional Indigenous attire in addition to or in lieu of the other approved academic regalia (gowns, hoods, etc.). You can also pick up an Indigenous graduation scarf at the James Day Field House on the day of your ceremony.
Know where to park. Complimentary parking is provided in U Lot and Q Lot (as seen on the Parking Map) on the Fort Garry campus.
Make any necessary arrangements for accessibility support. Everyone deserves to have a memorable experience! Contact Student Accessibility Services if you require assistance with seating, sign language interpretation, or other accessibility support.
Take graduation photos! Have something to remember this day by. Photographers will be present for individual and family photograph sessions before and after the ceremony. A photographer will also be capturing the moment you are handed your parchment.
Visit the Alumni Booth. Make sure to stop by to pick up your free graduation gift, order your degree frame, and learn about the benefits and opportunities now available to you as new UM alumni!
Celebrate with family, friends and loved ones no matter how far away they are. We encourage graduates to invite guests, but we kindly ask that you limit your in-person guests to five people. Guests should enter the IGAC and take their seats before the ceremony begins. Those unable to attend in person are welcome to tune in virtually by accessing the immersive virtual platform and joining the live stream component.
Share the experience on social media. Post your pictures and videos using #UManitoba2022 and tag @umanitoba and @umstudent in your Instagram stories for us to share and for your fellow graduates and the UM community to see! Try the UM Giphys and stickers designed to help you celebrate this special occasion. Simply search umanitoba or University of Manitoba on Instagram or Facebook to use the Giphys and stickers.
Celebrate! Revel in this well-earned achievement and take the time to enjoy one of the best memories in your lifetime. Convocation day is meant to honour you and your accomplishments while looking forward to the future ahead of you.
To stay up to date on what to expect on convocation day, visit umanitoba.ca/convocation.