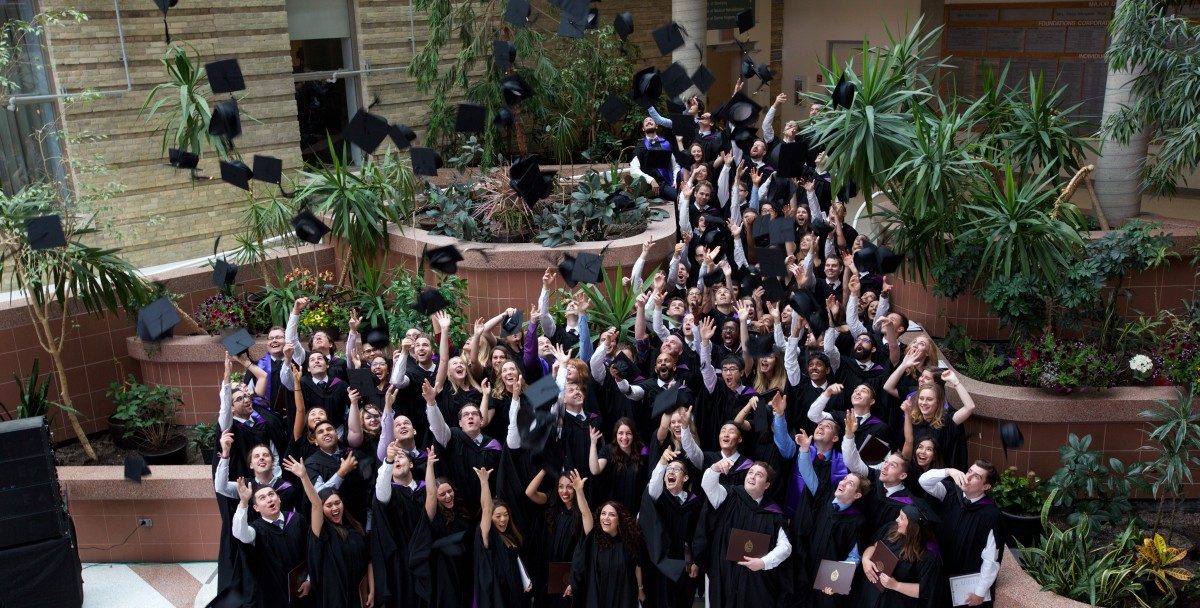 Be courageous in face of injustice, rights champion tells grads
May 28, 2018 —
A teddy bear dressed in green health-care scrubs accompanied Dr. Cindy Blackstock as she received an honorary doctorate at U of M Convocation on May 24.
Blackstock, a member of the Gitksan First Nation, has made teddy bears the symbol of her mission: to reform Canada's child welfare system and defend the rights of Indigenous children.
In her Convocation address on the Bannatyne campus, the social worker, professor and activist began by telling more than 100 graduating students in dental hygiene, dentistry and pharmacy, "Love is here today."
She went on to recount the Manitoba story of Jordan River Anderson, a boy from Norway House Cree Nation who was hospitalized from birth with a genetic disorder.
Jordan, who loved teddy bears, could have lived in a home setting. But the federal and provincial governments argued for more than two years over who should pay for his home-based care. He died in hospital in 2005 at the age of five, never having gotten to live in a family home.
Jordan's Principle, named in his memory, aims to ensure that First Nations children get the government services they need without delay. Blackstock, who continues to fight for equitable services, urged the graduating students to be courageous in standing up for justice.
"When life calls you in a direction that you never expected, to stand in the winds of discrimination and injustice . . . you must rise to that occasion," she said. "You will never feel ready. You will never feel smart enough. You will never feel brave enough. But you have been chosen."
The afternoon ceremony marked the first time Convocation for the College of Dentistry and College of Pharmacy has been held on the Bannatyne campus, where the colleges are located, rather than on the Fort Garry campus. "It was a request made by the students," said Dr. Brian Postl, dean of the Rady Faculty of Health Sciences.
Earlier the same day, Manitoba's newest doctors walked across the same platform, graduating from the Max Rady College of Medicine. Of the 107 new MDs, 76 per cent are staying in Manitoba for their residency training. The class included eight students of self-declared Indigenous ancestry.
Samahra Singer, 29, is of Dene and Cree heritage and received her degree wearing the U of M's purple graduation scarf denoting Indigenous identity. "I hope that by seeing me, other Indigenous students will think that they, too, can become physicians," she said. "I feel like I've accomplished something for my people."
Ananda Kuatsidzo, 28, was born in Ghana and came to Canada as an undergraduate student 10 years ago. She now hopes to help immigrants through her medical practice. Kuatsidzo gave birth to a baby boy during the final term of medical school. "I'm just really blessed and really grateful," she said.
Janine Grenier, 26, was one of this year's six graduates from the college's bilingual stream. She grew up on a farm outside the francophone village of St. Leon, Man. "I'm really proud to be able to serve people in French, and to be from a rural background," she said. "My goal is to have a rural bilingual family practice."
At the ceremony for the medical graduates, the U of M conferred an honorary doctorate on Dr. Martin Yaffe, an internationally recognized scientist in the field of breast cancer. His citation was read by his brother, Dr. Cliff Yaffe, a surgeon and associate dean of postgraduate medical education at the U of M.
Martin Yaffe, who grew up in Winnipeg, completed his bachelor's and master's degrees in science at the U of M in the 1970s. He earned his PhD in medical biophysics at the University of Toronto, where he is now a professor. Yaffe was a pioneer of digital mammography, which revolutionized how breast cancer is detected.
In his Convocation address, Yaffe called on the graduating physicians to stay engaged with evidence-based medical science and beware of "false science."
"If you are a physician who thinks scientifically and understands the science underlying your art and your practice, you will be a better doctor; a more empowered doctor," he said.