Engaging Community News Archive
July 13, 2014 —
A U of M service-learning opportunity enables students to run an after-school program for girls and boys at two secondary schools in Tanzania.
+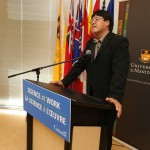 July 12, 2014 —
The CREATE H2O program nurtures collaborative relationships between First Nations and researchers.
+
July 11, 2014 —
Prof. Tuula Heinonen's work with the China Women's University is shaping the next generation of social service providers.
+