Better spaces, more places
Spring 2020
The impact of donors who invested in UM infrastructure spans two campuses, touching nearly every corner, and also reaches into the greater community. These places will inspire, offer modern tools and technologies, enrich the cultural spirit of campus, and serve as collaborative spaces with community partners. During the Front and Centre campaign, donors funded upgrades to 37 buildings and brought to life another seven—from a rehearsal building for student musicians to a high-tech dairy complex that will help advance Manitoba's dairy industry.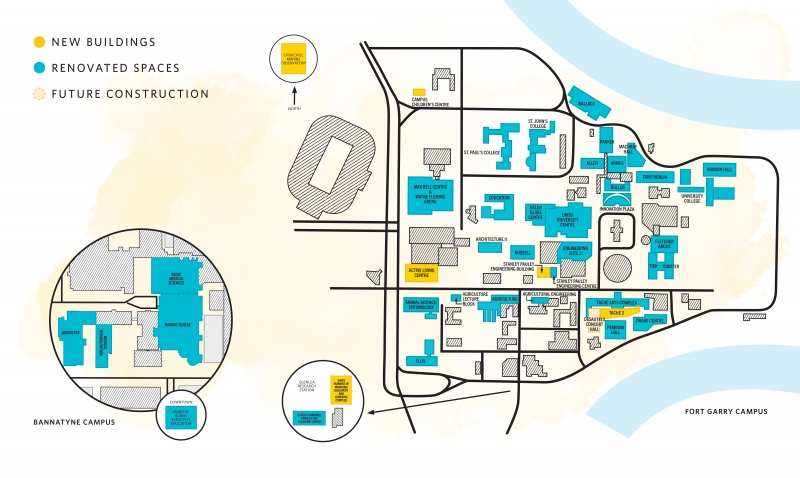 Front and Centre Map (PDF download)
At Architecture II's design studios, you might see a five-by-eight-foot model of The Forks, plans for futuristic cities and students empowered by their bright, new surroundings. "It's created much more of a blank slate…that our work then can fill," says Faculty of Architecture grad student Jessica Piper [BEnvD/18].
The studios and this classroom in the Education Building are among the numerous spaces on the Fort Garry and Bannatyne campuses transformed by a $10-million Richardson Foundation gift.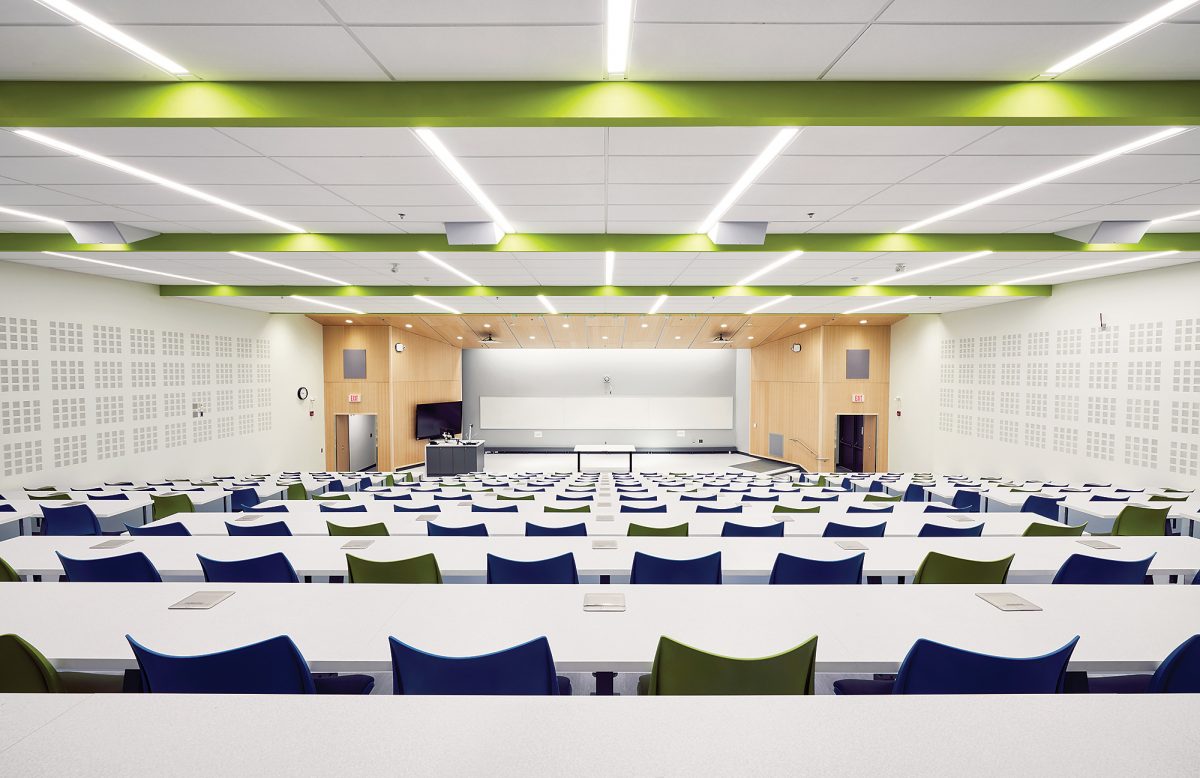 Enriching our arts community
The Taché Arts Project spans 230,000 square feet of music, fine arts, and theatre facilities, revitalizing UM arts education and creating a vibrant hub for arts and culture in Winnipeg. At its centre: the transformation of the iconic Taché Hall residence, and a new addition, with dorm rooms becoming photo darkrooms, all rehearsal rooms wired for professional recordings and a new electro- acoustic studio for computer-engineered music.
The 400-seat Desautels Concert Hall, named after Marcel Desautels [BA(LatPh)/55, LLB/59, LLM/65, LLD/99], is scheduled to break ground as early as this fall and will be a first-rate performing arts venue for UM students and for Winnipeg. Philanthropist Michael Nesbitt [BComm/56, BA/57, LLD/15] gave $2.5 million toward the new space. As Derrick Gardner, director of UM's jazz orchestra, put it, he's "providing the soul for this concert hall."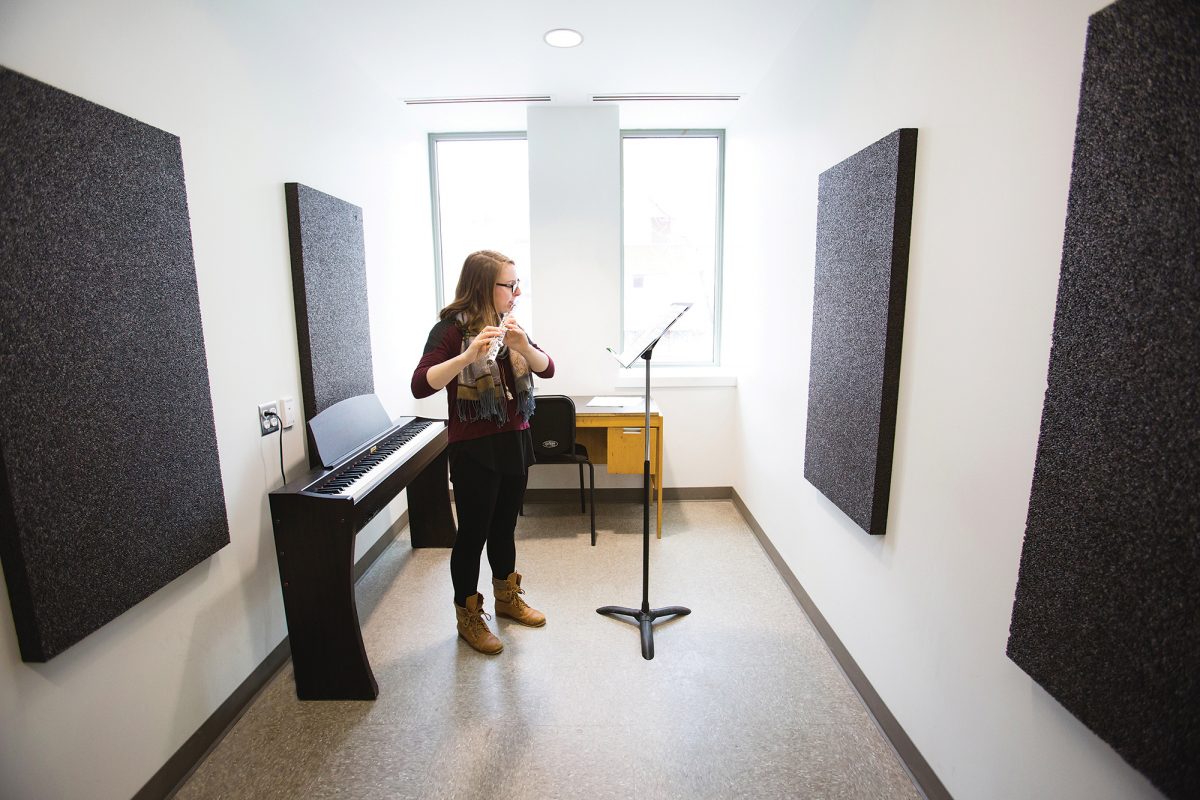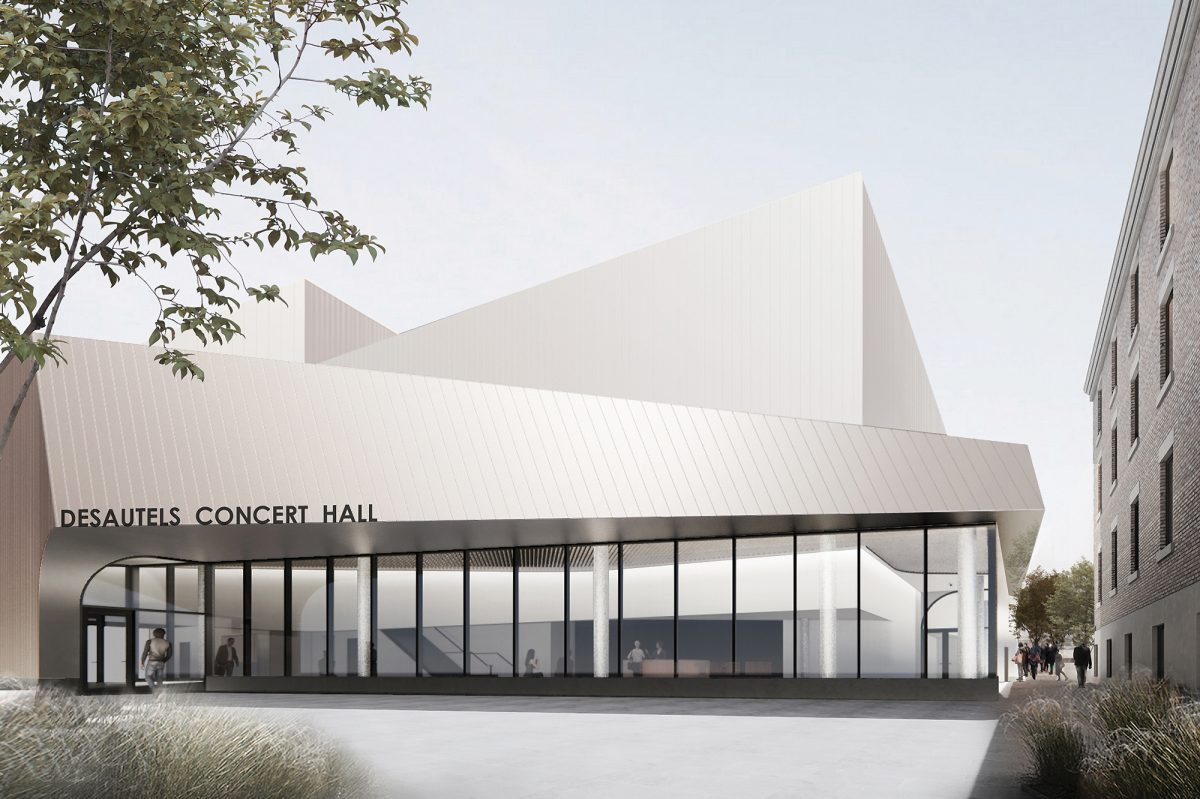 Philanthropist Gail Asper [BA/81, LLB/84, LLD/08]—a Black Hole Theatre alumna—and husband Michael Paterson [BSc(Hons)/82] gave $2 million to the Taché Arts Project for a new space, The Gail Asper Performing Arts Hall, for the university's theatre program. The gift announcement, on Sept. 20, 2016, drew a standing ovation. Students spoke about the impact this new home for the performing arts will have for years to come. "This is a professional-calibre space, one that students dream of being able to use, and now we can. We can now dream even bigger," said student Lauren Gowler.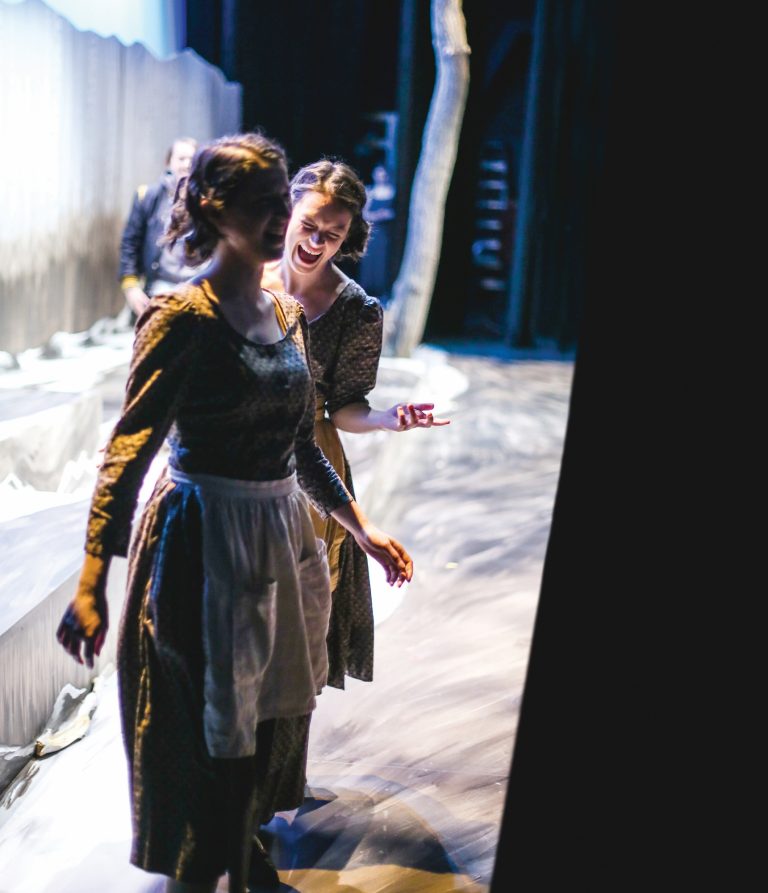 The construction of the Stanley Pauley Engineering Building created more than 46,000 square feet of state-of-the-art facilities, including teaching and research labs where students and researchers work with industry, government and non-profit partners. Among the many donors is namesake Stanley Pauley [BSc(EE)/49], CEO of Carpenter Co., who gave $5 million to this project. A new student lounge was named after donor Donald K. Johnson [BSc(EE)/57, LLD/08]. The collaborative space lies in the basement where high ceilings let in welcome sunlight from ground-level windows.
Professor Shaahin Filizadeh [PhD/04] runs one of the new labs (right), although he avoids that word. "I purposely called it an atelier"—French for creative workshop—"instead of lab, because I want us to approach problems creatively, and to pursue unconventional solutions." Here, graduate students use sophisticated equipment to solve tomorrow's electrical power engineering problems. They are, for instance, building systems and developing algorithms that will enable our power grids to mesh with renewable sources of energy and to respond to waves of demand from electrical vehicles, such as electric ATVs.
In addition to the new building bearing his name, Stanley Pauley gave more than $4 million towards other projects, including bursaries and equipment in electrical engineering.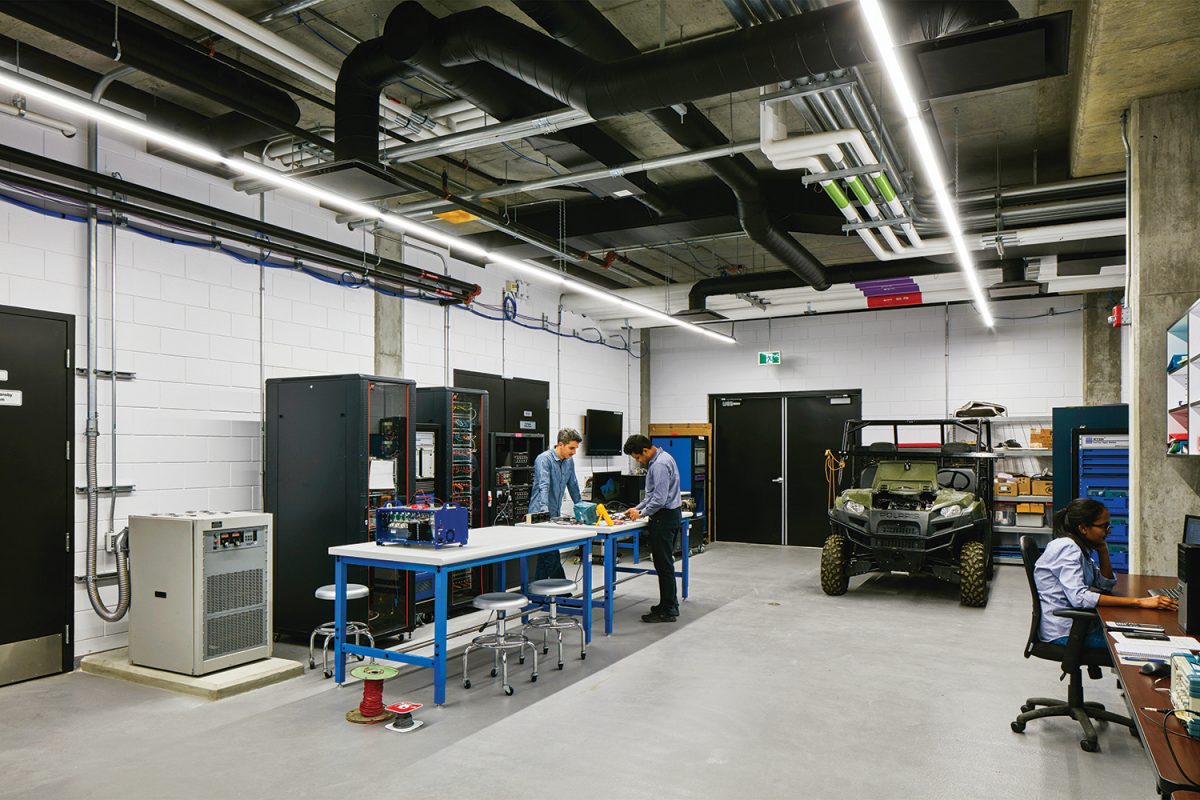 Goodbye Gritty Grotto. The four-storey Active Living Centre on the Fort Garry campus opened in 2015 and draws members university-wide and from neighbouring communities. At 100,000 square feet, it's the largest facility of its kind in Manitoba and brings together researchers to investigate chronic disease prevention. Among the donors: UM's Alumni Association, Wawanesa Insurance and Robert Michaleski [BComm/75].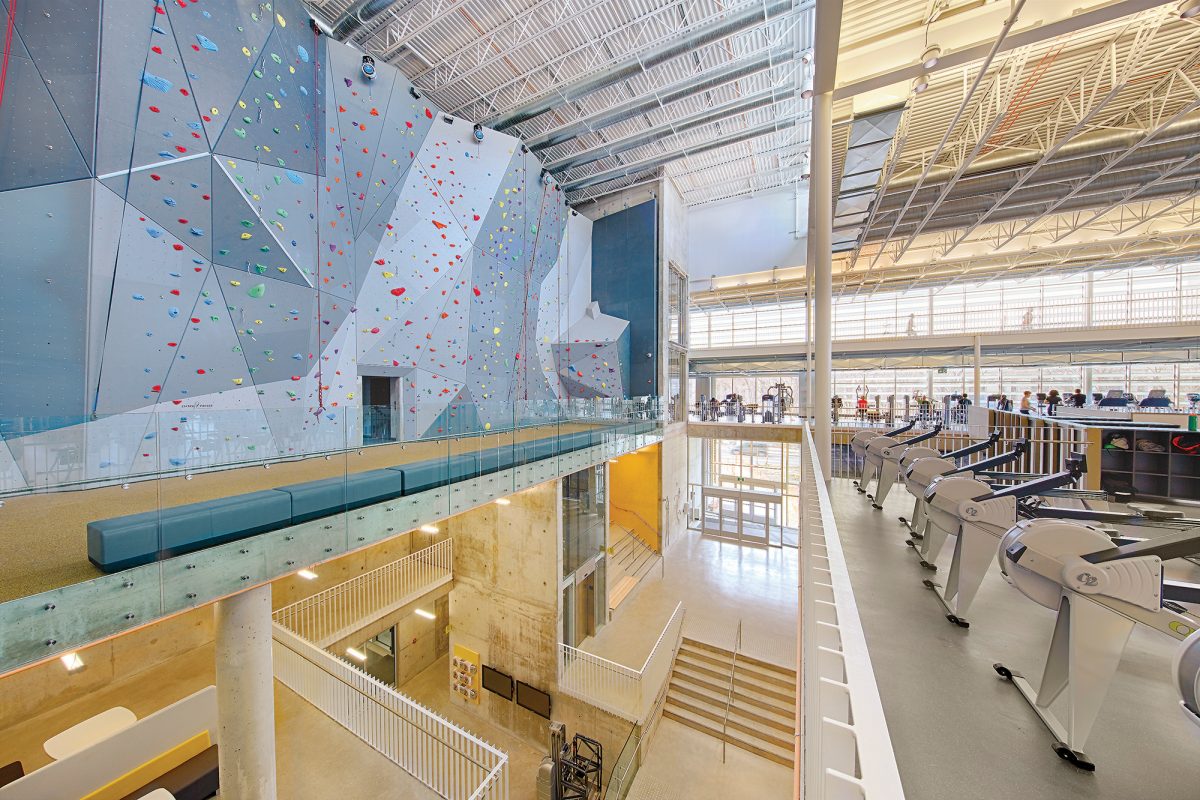 At the new Dr. George Yee Laboratory of Anatomical Sciences on the Bannatyne campus, health sciences students use touchscreens to manipulate 3-D anatomical models or watch dissections broadcast live to a full lecture theatre. The celebrated pathologist's gift is one of many he made in gratitude for having received a much-needed bursary to attend medical school in the late 1950s. "I was born a galaxy away from academia," Yee [MD/60, DSc/12] once told students. "Education enabled me to achieve success and I vowed that if I was ever fortunate enough, I would give back.