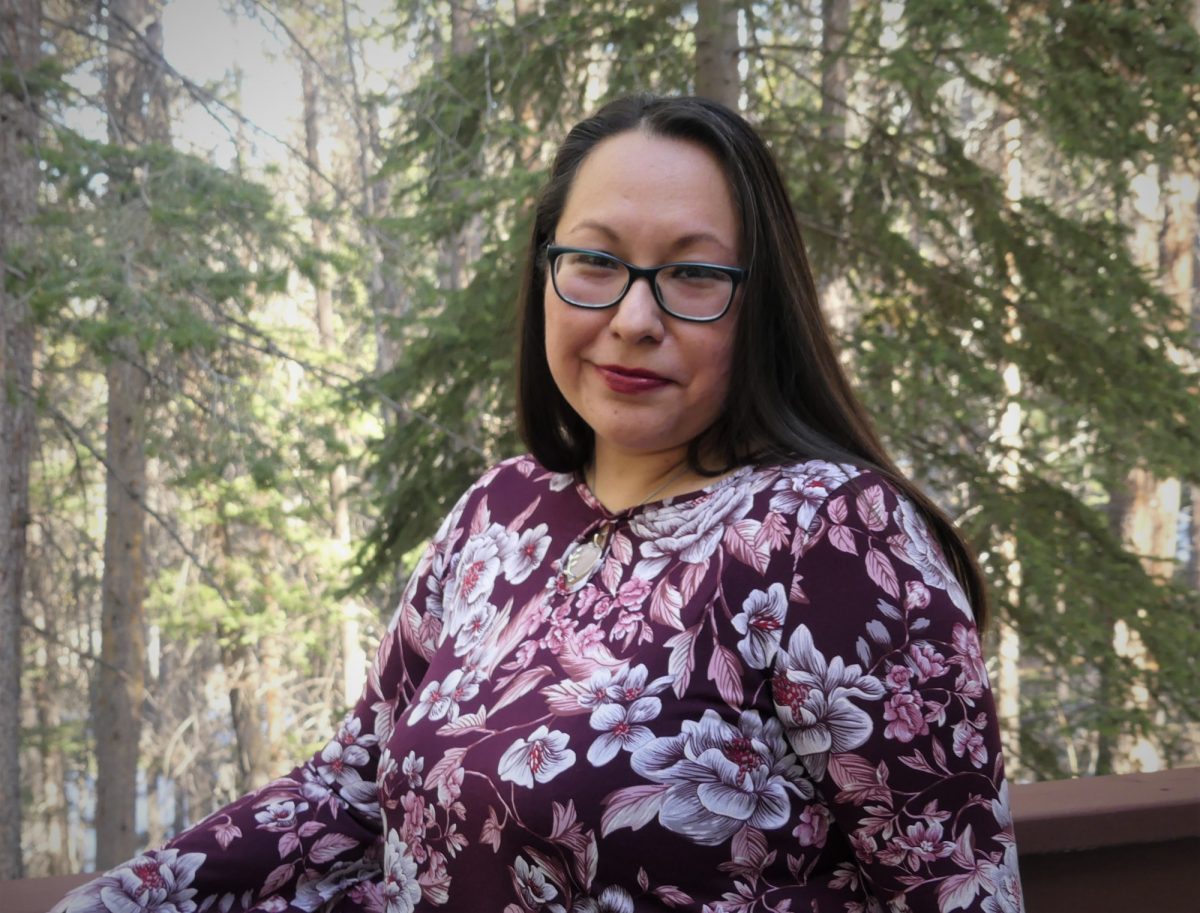 Atikamekw filmmaker latest Writer-In-Residence
Centre for Creative Writing and Oral Culture welcomes Janine Windolph
January 10, 2023 —
Janine Windolph is the newest Writer-In-Residence at the Centre for Creative Writing and Oral Culture (CCWOC) at the University of Manitoba. Windolph will work with students, faculty, staff, alumni and members of the public from January to April 2023.
Janine Windolph (Atikamekw/Woodland Cree) is an oral filmmaker, educator and storyteller who's currently working at the Banff Centre for Arts and Creativity as Director of Indigenous Arts. She was formerly the Curator of Community Engagement at the MacKenzie Art Gallery in Regina, Saskatchewan, where she also worked as a Storykeeper, Education Program Assistant and Curator of Public Programs. Windolph also has experience as a Saskatchewan-based filmmaker in key roles as producer, director, writer and narrator for both a feature film called the Land of Rock and Gold and numerous documentaries over the past 15 years. She has her Master's of Fine Arts in Interdisciplinary Indigenous Fine Art and Media Production. Windolph is on the board of Prince of Trust Canada, Regina International Film Festival and Awards and she volunteers for the RIIS Commemorative Association, Inc. She is known as an educator, fine-craft artist and storyteller and teaches beading, visual arts, photography, filmmaking, writing, storytelling and Indigenous symbols in schools, libraries and non-profits.
Windolph is excited to work with the U of M community. "I see this as an opportunity to work deeper with the UM and Winnipeg/Manitoba community to help foster connections with the community while offering an opportunity for participants to think about a holistic approach to storytelling," said Windolph. "In my background, I felt that what I needed was peer support in a culturally safe space. So, my goal is to help other writers to get feedback and share what I have learned over the years. I see the residency as a form of reciprocity, as I will be learning as much as I will be sharing."
"Janine Windolph is a completely remarkable filmmaker, artist and person," says Jocelyn Thorpe, CCWOC Director. "She has experience in an incredibly diverse array of areas—from statement gathering for the TRC to activism in commemorating an unmarked burial ground of Indigenous children located in Regina, from documentary to feature filmmaking and from jewellery making to grant adjudication. We are so lucky to have such a generous, thoughtful and accomplished storyteller in residence."
Windolph is the first filmmaker filling the CCWOC residency role. "As a filmmaker, she is both a writer and a listener to the stories of others," says Thorpe. "She then brings these stories to the big screen. We are looking forward to celebrating her work at the welcome event on January 19th and encourage aspiring storytellers to take advantage of the opportunity to learn from her."
WELCOME EVENT
CCWOC will welcome Janine Windolph to the University of Manitoba at an event to be held both in-person and online. In conjunction with Decolonizing Lens, the welcome event will offer film screenings and a follow-up discussion with the artist hosted by Sonya Ballantyne at the Winnipeg Art Gallery.
Films to be screened include The Beacon Project: Stories Along the Qu'appelle Valley (with Dianne Whelan), Stories Are in Our Bones, Life Givers and some works in progress.
All are welcome. No registration necessary. The event is free.
Welcome Event
Thursday, January 19, 2023
6:15 pm – doors open
6:30 pm – food by FEAST
7:00 pm – screening
Discussion to follow.
Winnipeg Art Gallery, 300 Memorial Boulevard
To watch online, visit Eventive.
STORYTELLING WORKSHOP
Windolph is hosting a six-session free workshop throughout the residency for aspiring filmmakers and oral storytellers.
The workshop will explore writing through a lens of both film and oral storytelling to understand Indigenous Storytelling Practices. The diversity of Indigenous storytellers and approaches to storytelling will shape the content, values, protocols and processes that become part of the writer's methodology that impacts the content, the story structure of each writing and nature of each film project. The workshop will explore the relationship between the writer as a storyteller, and their audiences while emphasizing the responsibility they have to their subjects (if documentary or based on a true story), represented communities, and the nature of stories that are shared from a personal lens.
The workshop will include a presentation followed by a dialogue with opportunity for feedback on work in one-on-one sessions or with the participant cohort. The program welcomes 12 participants and sessions will run every two weeks for 1.5 hours online.
Story Sharing: Reflecting on Approach to Indigenous Narratives
February 11, 25, March 11, 25, April 8, 22
1:00 pm – 2:30 pm CT
Registration for the online workshop is limited to 12 spots.
Email ccwoc [at] umanitoba [dot] ca to register.
INDIVIDUAL WRITER CONSULTATIONS
As part of Windolph's role, she will be available by virtual appointment to writers of all levels from January 16 to April 22. To consult with Windolph, students, faculty, staff, alumni and members of the public are encouraged to contact her by email to arrange a free meeting.
For more information about any of these programs and events, please contact the Centre for Creative Writing and Oral Culture at ccwoc [at] umanitoba [dot] ca.