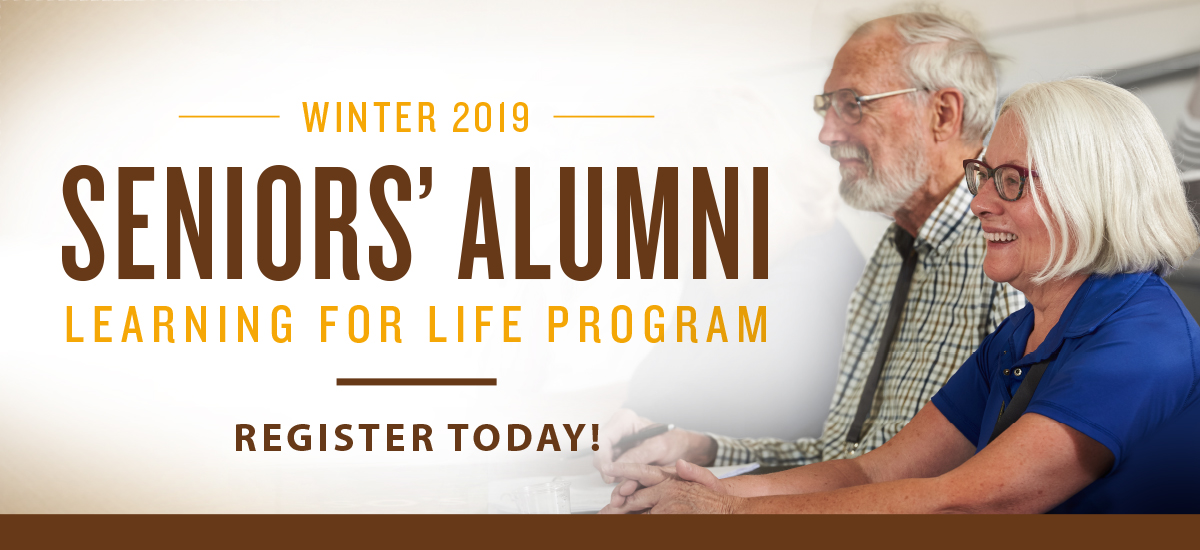 Spring 2019 Session
Wednesday afternoons from 1 p.m. – 2:30 p.m.
Runs April 10 until May 29
APRIL 10
Baby It's Cold Outside: Knowledge Translation from the Lab to the Public
Presenter: Dr. Gordon Giesbrecht, Professor, Kinesiology & Recreation Management
APRIL 17
The Power of Big Data for Chronic Disease Surveillance
Presenter: Dr. Lisa Lix Professor & Acting Associate Head| Department of Community Health Sciences, Tier 1 Canada Research Chair in Methods for Electronic Health Data Quality, Director, Data Science Platform, George & Fay Yee Centre for Healthcare Innovation
APRIL 24
Cracking Open the Door of the Vault: Treasures in the University of Manitoba's Rare Book Room
Presenter: Dr. Shelley Sweeney, University Archivist, Head of Archives & Special Collections
MAY 1
Adverse Childhood Experiences (ACEs): Current State of Knowledge and Current Controversies in the Field
Presenter: Dr. Tracie Afifi, Associate Professor, University of Manitoba, Associate Editor, Child Abuse & Neglect, Royal Society of Canada Inducted College Member
MAY 9
The Science, Business and Politics of Climate Change
Presenter: Dr. Hersh Shefrin, Distinguished Alumni Award Lifetime Achievement Recipient
MAY 15
Assisted Death Law – How Does Canada Compare?
Presenter:  Dr. Mary Sharif, Associate Professor, Faculty of Law
MAY 22
From Truth to Reconciliation
Presenter: Ry Moran, Director of the National Research Centre for Truth & Reconciliation
QUESTIONS?
If you have any questions, please call Alumni Relations at 204-474-9946 or email alumni@umanitoba.ca.
Recent Alumni Stories
Desautels Faculty of Music Associate Professor Will Bonness wins Juno Award for Jazz Album of the Year (Solo)
+
When David Ambrose [BMROT/00] was 10 years old, growing up in Teulon, Man., the first seeds of his career were planted while he watched the Calgary Flames make a run for the Stanley Cup in 1989. It wasn't hockey legends like Lanny McDonald who caught his attention. Instead, he noticed Bearcat Murray, the team's athletic trainer, tending to injured players on the ice.
+
Twelve Manitobans will soon receive the Order of Manitoba, the province's highest honour
+
Follow Us
Twitter: umanalumni
RT @UM_RadyFHS: Almost time for convocation with the students of the Dr. Gerald Niznick College of Dentistry! #umanitoba2022 #radyfaculty…
RT @UM_RadyFHS: The class of 2022 medical students have received their degrees and are reciting the pledge of ethics. Congratulations! #uma…