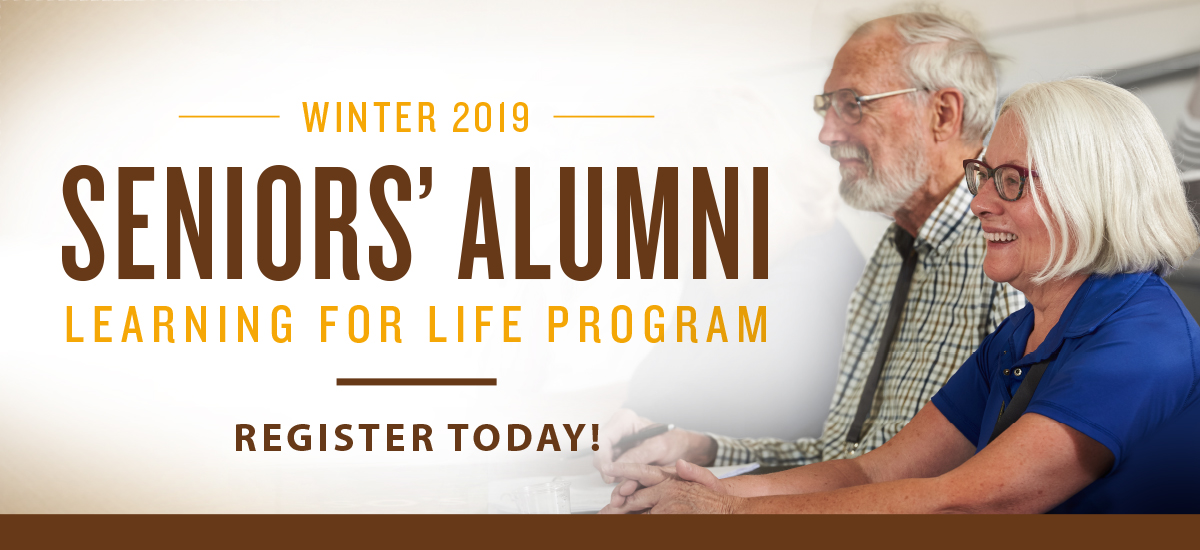 Spring 2019 Session
Wednesday afternoons from 1 p.m. – 2:30 p.m.
Runs April 10 until May 29
APRIL 10
Baby It's Cold Outside: Knowledge Translation from the Lab to the Public
Presenter: Dr. Gordon Giesbrecht, Professor, Kinesiology & Recreation Management
APRIL 17
The Power of Big Data for Chronic Disease Surveillance
Presenter: Dr. Lisa Lix Professor & Acting Associate Head| Department of Community Health Sciences, Tier 1 Canada Research Chair in Methods for Electronic Health Data Quality, Director, Data Science Platform, George & Fay Yee Centre for Healthcare Innovation
APRIL 24
Cracking Open the Door of the Vault: Treasures in the University of Manitoba's Rare Book Room
Presenter: Dr. Shelley Sweeney, University Archivist, Head of Archives & Special Collections
MAY 1
Adverse Childhood Experiences (ACEs): Current State of Knowledge and Current Controversies in the Field
Presenter: Dr. Tracie Afifi, Associate Professor, University of Manitoba, Associate Editor, Child Abuse & Neglect, Royal Society of Canada Inducted College Member
MAY 9
The Science, Business and Politics of Climate Change
Presenter: Dr. Hersh Shefrin, Distinguished Alumni Award Lifetime Achievement Recipient
MAY 15
Assisted Death Law – How Does Canada Compare?
Presenter:  Dr. Mary Sharif, Associate Professor, Faculty of Law
MAY 22
From Truth to Reconciliation
Presenter: Ry Moran, Director of the National Research Centre for Truth & Reconciliation
QUESTIONS?
If you have any questions, please call Alumni Relations at 204-474-9946 or email alumni@umanitoba.ca.
Recent Alumni Stories
Dr. Brent Schacter developed international standards for bio banking biological materials for research
+
New alumni virtual programming and events available this fall
+
University of Manitoba alumnus Henry Bruce Chown [MD/22] is one of six groundbreaking physicians and researchers being celebrated across the country this week with the unveiling of a set of commemorative Canada Post stamps.
+