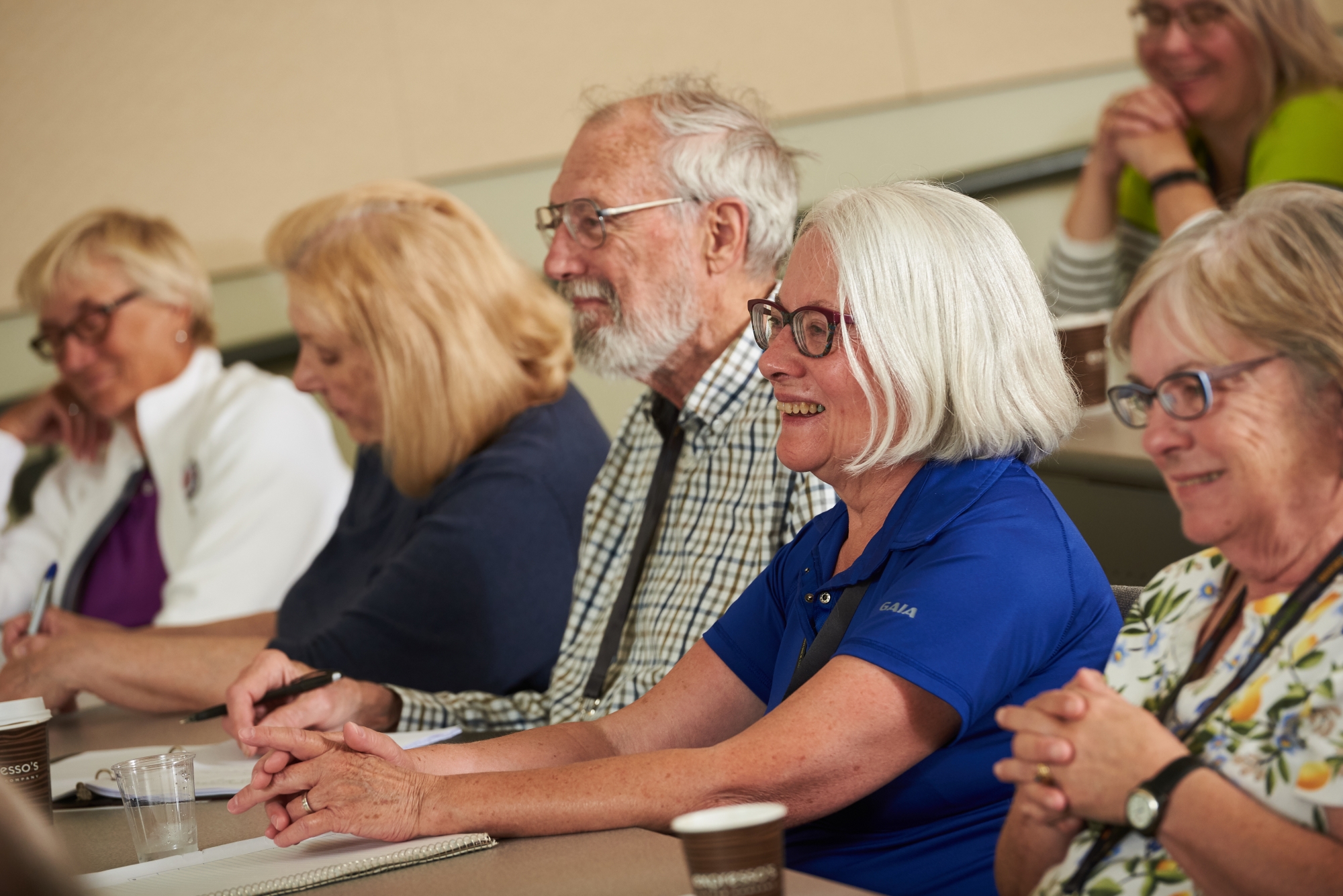 Fall 2019 Sessions
FALL 2019 SESSION
Registration will open in July for the Fall 2019 session of the Seniors' Alumni Learning for Life Program! This exciting program of seven sessions is for seniors 60-plus and is open to alumni and friends of the University of Manitoba.
Thursday mornings from 10:00 a.m. – 11:30 a.m.
Runs September 12 until October 31
SEPTEMBER 12
TOPIC: TBD
Presenter: Dr. Cheryl Glazebrook, Acting Associate Dean, Research, Kinesiology & Recreation Management
SEPTEMBER 19
The Challenges of Polling: Thoughts on the 2019 Canadian Federal Election
Presenter: Dr. Christopher Adams, Rector, St. Paul's College
SEPTEMBER 26
Cardiovascular Health
Presenter: Dr. Lorrie Kirshenbaum, PhD, FAHA, FIACS, FISHR, FFGTB, FCAHS Canada Research Chair in Molecular Cardiology, Director, Institute of Cardiovascular Sciences, St. Boniface Hospital Albrechtsen Research Centre Head, Division of Cardiovascular Science and Disease, Professor, Departments of Physiology and Pathophysiology, and Pharmacology and Therapeutics, Max Rady College of Medicine, Rady Faculty of Health Sciences, University of Manitoba
OCTOBER 3
Science and Art: Exploration, Imagination and Innovation
Presenter: Dr. Erwin Huebner, Professor Emeritus Department of Biological Sciences and "Artist in Residence" School of Art,  University of Manitoba
OCTOBER 10
Senior's Mental Health
Presenter: Dr. Dan Chateau, Research Scientist, Manitoba Centre for Health Policy (MCHP), Assistant Professor, Department of Community Health Sciences
OCTOBER 24
What is musicology and what can it teach us about Louis Riel?
Presenter:  Dr. Colette Simonot-Maiello, Desautels Faculty of Music
OCTOBER 31
Indigenous Health
Presenter: Dr. Marcia Anderson, Assistant Professor, Departments of Community Health Sciences and Internal MedicineExecutive Director, Indigenous Academic Affairs Ongomiizwin Indigenous Institute of Health and Healing
Recent Alumni Stories
"Our Shared Future" contains contributions from some of Canada's leading scholars and leaders in positive reconciliation
+
2020 DFOM graduate Dhiego Costa is so cool, but his piano playing is red-hot!
+
The first graduates of the redesigned Diploma in Agriculture program enter the workforce prepared for change.
+
Follow Us
Twitter: umanalumni
RT @umextendeded: Kim VanKosh says the real-world experience of our instructors is what distinguishes them from those she encountered as a…
RT @Farm2SchoolMB: We're hosting a Veggie Adventures Day with the @UMDiscoveryCtre on Sat, Aug 22! Join us for a farm tour, games & prizes,…