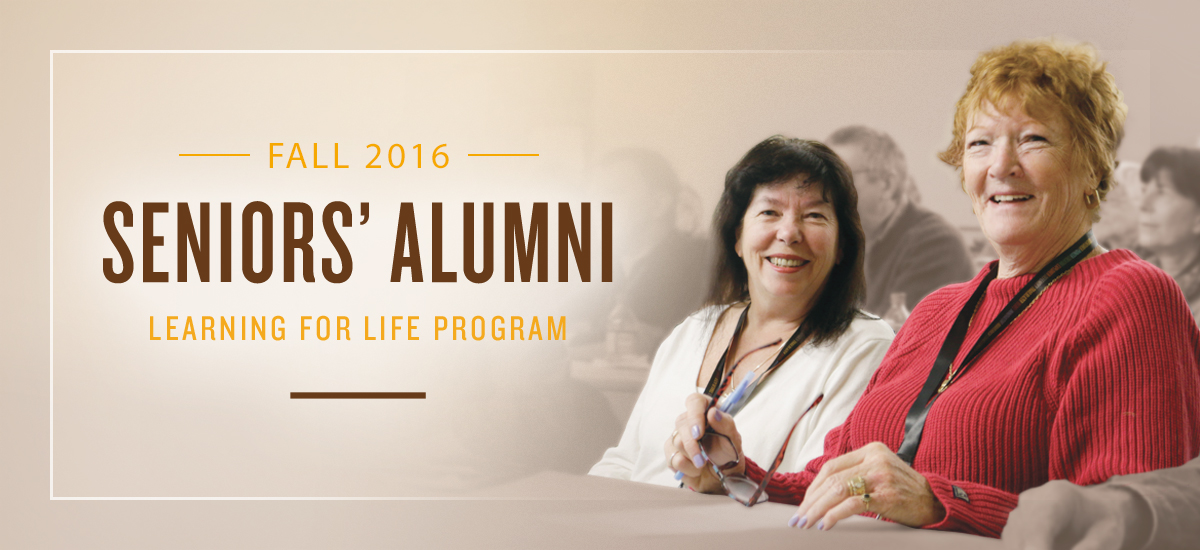 Seniors' Alumni Learning for Life Program - Fall 2016 Sessions
September 22, 2016
Memory & Aging: What's Normal, What's Not?
Dr. Colleen Millikin
Assistant Professor, Department of Clinical Health Psychology, Max Rady College of Medicine, Rady Faculty of Health Sciences
September 29, 2016
What is All the Fuss About Gravitational Waves?
Dr. Adam Rogers [BSc(Hons)/04, PhD/12]
Research Associate, Department of Physics and Astronomy, Faculty of Science
October 6, 2016
Feeding the North
Dr. Shirley Thompson
Associate Professor, Natural Resources Institute
---
Please note there will not be a session on October 13, 2016 – see you in two weeks.
---
October 20, 2016
Lyrical Diction
Dr. Laura Loewen
Associate Professor, Desautels Faculty of Music
October 27, 2016
Iconic Moments in Canadian History
Dr. Adele Perry
Professor, Department of History, Faculty of Arts
November 24, 2016
Originally scheduled on November 10
The Lake Winnipeg Crisis
Dr. David Lobb
Professor, Department of Soil Science, Faculty of Agricultural and Food Sciences and Senior Research Chair for the Watershed Systems Research Program (WSRP)
December 1, 2016
Originally scheduled on November 3
The Mysteries of Black Holes
Dr. Christopher O'Dea
Professor, Department of Physics and Astronomy, Faculty of Science
Questions? Please contact Lesley Lewis at Lesley.lewis@umanitoba.ca or call 204-474-7519.
---
Here's a few comments from past participants:
"A lot of interesting information which generates questions and critical thinking."
"Well done – very informative! Thought provoking."
"I loved every session."
Recent Alumni Stories
Dr. Brent Schacter developed international standards for bio banking biological materials for research
+
New alumni virtual programming and events available this fall
+
University of Manitoba alumnus Henry Bruce Chown [MD/22] is one of six groundbreaking physicians and researchers being celebrated across the country this week with the unveiling of a set of commemorative Canada Post stamps.
+