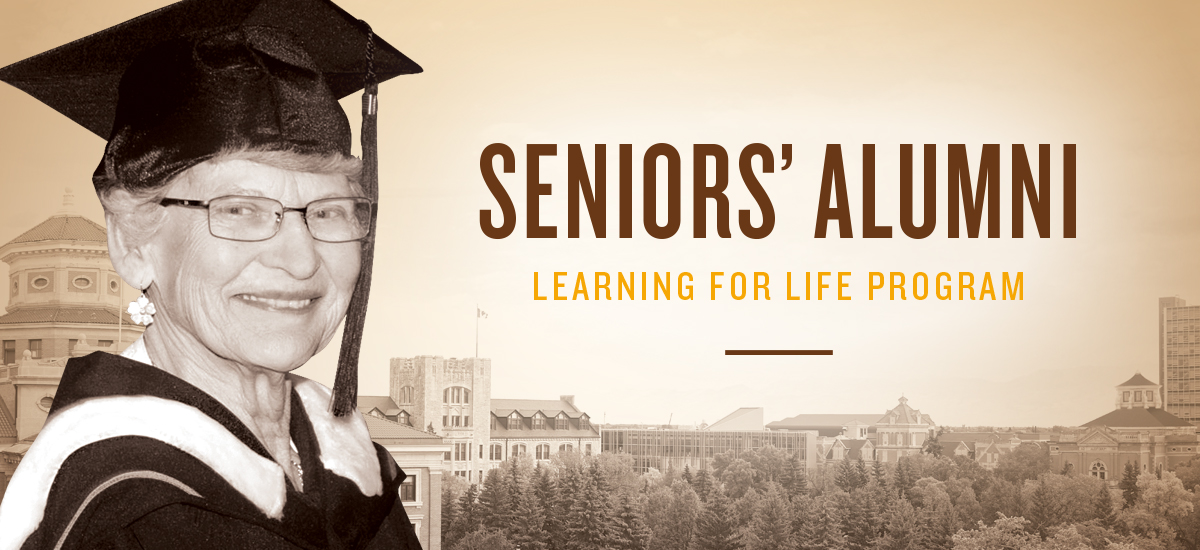 Fall 2015 Sessions
October 1, 2015
Hidden History – Do You Really Know Winnipeg?
Dr. Esyllt Jones [MA/97, PhD/03]
Professor, Faculty of Arts, Department of History, University of Manitoba and member of the Royal Society College of Canada
Winnipeg, like any other major urban community has a multi-layered past. Our understanding of this history is full of elisions, hidden spaces and peoples, and misleading historical narratives. This presentation confronts a few clichés and harmful fictions: the impoverished and marginalized North End, the presence/absence of Aboriginal peoples, or Winnipeg's pre-World War I 'glory days.' It follows Winnipeg's meandering historical sense of itself, and asks the audience members to place themselves, their families, and their communities into the richness of the city's social history. Where is your hidden Winnipeg?
Dr. Esyllt Jones is the author of the award-winning books Influenza 1918: Disease, Death and Struggle in Winnipeg and Imagining Winnipeg: History Through the Photographs of L.B. Foote, which was an "On the Same Page" Manitoba Book Club finalist. She is co-editor with Gerald Friesen of Prairie Metropolis: New Essays on Winnipeg Social History, winner of the Carol Shields Winnipeg Book Award. Professor Jones is a member of the inaugural cohort of the New College of Scholars, Artists and Scientists of the Royal Society of Canada. She was awarded the Queen's Diamond Jubilee medal by the Premier in 2013. Professor Jones teaches history at the University of Manitoba, of which she is also a proud alumnus.
Please note there will not be a session on October 8, 2015 – See you in two weeks.
October 15, 2015
Planting a Seed – Will Flax End Up in Your Medicine Cabinet?
Dr. Grant Pierce [PhD/83]
Executive Director of Research, St. Boniface General Hospital; Professor, Faculty of Health Sciences, College of Medicine, Department of Physiology, University of Manitoba
With heart disease the number one cause of death today, it is somewhat surprising to know that high blood pressure (hypertension) does not get the "credit" it deserves as a primary factor in causing these deaths. Even worse, control of high blood pressure with current medications has been less than optimal. Research conducted right here at the University of Manitoba within St Boniface Hospital has shown exciting effects on reducing high blood pressure by including milled flaxseed in the diet. The talk will detail the evidence behind these advances, what they mean for you and where it is expected to lead us in the future.
 After completing postdoctoral training at UCLA (1983-86), Dr. Grant Pierce obtained his first faculty appointment in the Department of Physiology, Faculty of Medicine at the University of Manitoba. Dr. Pierce has published over 200 peer reviewed research manuscripts and written or edited 8 textbooks on a variety of topics concerning metabolism, nutrition and cardiovascular health. His research papers have been cited well over 5000 times. His work on the diabetic cardiomyopathy and ischemic heart disease has been pioneering and highly cited. His most recent work has identified an exciting new dietary strategy for controlling hypertension. Dr. Pierce has served on the Editorial Boards of the top basic science cardiovascular journals in the world including Circulation Research, the American Journal of Physiology and the Journal of Molecular and Cellular Cardiology. He has served as Assistant Editor of Molecular and Cellular Biochemistry for more than 20 years. He is currently Editor of the Canadian Journal of Physiology and Pharmacology. He has been invited to give over 150 lectures at meetings and Universities throughout the world. Dr. Pierce is currently the Executive Director of Research at St. Boniface Hospital. He has received many awards in recognition of research excellence (including those from the American Heart Association, the International Society for Heart Research, the Heart and Stroke Foundation of Manitoba, the Canadian Institutes for Health Research, etc. and from many countries). He serves as a member of the Board of Directors of several health-related institutions. He is currently President of the North American Section of the International Academy of Cardiovascular Sciences. He is a past Chair of the Scientific Review Executive Committee for the Heart and Stroke Foundation of Canada where he oversaw all peer review conducted by this organization. He has been a Fellow of the American College of Cardiology, the American Heart Association, the American Physiological Society, the International Society for Heart Research, the International Academy for Cardiovascular Sciences, the Canadian Academy of Health Sciences and the Royal Society of Medicine (London). In 2013 Dr. Pierce received the Queen Elizabeth II Diamond Jubilee Medal in recognition of contributions to Manitoba and Canada. He also received Canada's highest honour for a scientist by being inducted as a Fellow into the Royal Society of Canada.
October 22, 2015
Religion and Media – Can We Identify Biases and Misrepresentations?
Jade Weimer [BSc/03, BA(Hons)/06, MA/08]
Sessional Instructor, Faculty of Arts, Department of Religion, University of Manitoba
When studying religion and the media, key methodological considerations must be contemplated by scholars in this field. Discover how western media representations of religious traditions may contain inherent biases. Be enlightened with case studies including news reports, television shows, movies, and music lyrics that will provide the basis for a thought-provoking discussion.
Jade Weimer is sessional instructor at the University of Manitoba in the Department of Religion. She is currently in the last stage of editing her dissertation and will complete her PhD in religious studies from the University of Toronto later this year. She specializes in the social history of Christianity with a particular focus on liturgical development and the nature of music in the earliest Christian assemblies. She has taught a variety of courses over the past four years at the U of M including religion and media, a course that examines the ways in which various forms of Western media portray different religious traditions.
 October 29, 2015
A Community For All Ages – How Do Age-Friendly Neighbourhoods Keep Us Fit?
Dr. Elizabeth Ready
Professor, Faculty of Kinesiology and Recreation Management, University of Manitoba; Research Affiliate, Health Leisure and Human Performance Research Institute and the Centre on Aging, University of Manitoba; Director, Applied Health Sciences PhD Program, University of Manitoba
Older adults have much to gain from being physically active, yet they can't be expected to do it all on their own. For individuals to sustain positive behaviours like being physically active, it is important they be carried out in an environment that supports healthy choices. This presentation will examine how age-friendly communities provide services, policies, settings and structures that support and enable people to age actively, and thus help to keep us healthy and fit.
Dr. Elizabeth Ready is a Professor in the Faculty of Kinesiology and Recreation Management, and Research Affiliate in the Health Leisure and Human Performance Research Institute and the Centre on Aging, at the University of Manitoba.  She also serves as Director of the Applied Health Sciences PhD Program.  She obtained her Bachelor's and Master's degrees in physical education at the University of Western Ontario, and her Ph.D. in exercise physiology at the University of Alberta. Her research focuses on health benefits of physical activity in the elderly, the integration of physical activity into the primary health care system, "age-friendly" communities, and community-based physical activity interventions. Her involvement in curriculum development, together with her goal to better integrate physical activity into the health care system, led to her scholarly interest in interprofessional education and collaborative practice.
Elizabeth has served many health-related national and provincial associations. She is currently Chairperson of the Heart and Stroke Foundation of Manitoba Provincial Advisory Board, and was the Manitoba representative to the Heart and Stroke Foundation of Canada Board of Directors from 2009-2012. In 2009 she served as Steering Committee Co-chair of the Manitoba Business Case for Primary Disease Prevention, a collaborative project of the Heart and Stroke Foundation of Manitoba, CancerCare Manitoba, Health in Common and the Alliance for the Prevention of Chronic Disease. She is Co-Chair of the Kinesiologist Coalition of Manitoba, a past board member of the Manitoba Fitness Council and the Canadian Fitness and Lifestyle Research Institute, and was an original member of the Winnipeg in motion Coordinating Committee.
November 5, 2015
Aging With a Healthy Brain – How Can We Prevent Alzheimer's Disease?
Dr. Zahra Moussavi [PhD/97]
Director, Biomedical Engineering Program, University of Manitoba; Professor, Faculty of Engineering, Department of Electrical and Computer Engineering and Department of Psychiatry, University of Manitoba; Canada Research Chair, University of Manitoba; Adjunct Scientist, TRTech of Winnipeg; Research Affiliate, Riverview Health Centre; Research Affiliate, Centre on Aging, University of Manitoba
For most degenerative brain diseases, such as dementia and in particular Alzheimer disease (AD), there is no known cure. There is already irreversible brain damage by the time an elderly individual is diagnosed with AD using current techniques. We have to think of brain health and preventing dementia as a lifetime perspective that pays much more attention to the quality of our environment than the quality of our genes.  The key to future solutions for healthy brain aging is going to be a multidisciplinary approach and believe in the brain's plasticity. Learn key points about how our brain functions and how to improve our cognitive skills as well as memory in order to age with a healthy brain and avoid Alzheimer's.
Dr. Zahra Moussavi received her BSc from Sharif University of Technology, Iran, MSc from the University of Calgary, and PhD from University of Manitoba, Canada in 1997, all in Electrical Engineering. She then joined the respiratory research group of the Winnipeg Children's Hospital and worked as a research associate for 1.5 years. In 1999, she did her postdoctoral fellowship at the Biomedical Engineering Department of Johns Hopkins University. Following that, she joined the University of Manitoba, Department of Electrical and Computer Engineering as a faculty member, where she is currently a full professor, a Canada Research Chair in Biomedical Engineering and also the director of Biomedical Engineering Graduate Program. She is also an adjunct scientist at the TRTech of Winnipeg, a research affiliate of Riverview Health Centre, a research affiliate of the Centre on Aging at the University of Manitoba.
She is a recipient of Canadian Academy of Engineering Fellowship (2015), IEEE-EMBS distinguished Lecturer title (2013-2014) and "Women of Distinction Award" in Science and Technology (2014) from the YWMCA and Manitoba Government as well as "Canada's Most Powerful Women (Top 100) in Trailblazers and Trendsetters category (2014)". With over 204 peer-reviewed publications in prestigious journals and conferences, her current research includes biological signal processing, diagnostic pattern recognition and medical devices instrumentation with applications on sleep apnea, and Alzheimer disease. She has given 62 invited talks/seminars (28 outside of Canada) including a Tedx Talk and 4 keynote speaker seminars at international conferences.
November 12, 2015
The Drinking Water Crisis in First Nations Communities – What Can We Do About It?
Karen Busby [JD/81]
Professor, University of Manitoba; Director, Centre for Human Rights Research, University of Manitoba
Ten thousand Canadians live in homes that do not have running water or functional toilets and about 130 communities were, at any given time over the last decade, under drinking water advisories.  Almost all of the affected people have something other than poor water services and quality in common: they are Indigenous and live in a First Nation community. Hear about some of the ways the Canadian government may have failed to meet its obligations under international law and the Canadian constitution.
Karen Busby has worked as a researcher, teacher and advocate on human rights issues for almost three decades. Currently she is on an inter-disciplinary team looking at the effectiveness of various advocacy strategies to get governments and citizens to care about the disgraceful state of water and sanitation in First Nations communities. She is a professor of law and the director of the University of Manitoba's Centre for Human Rights Research.
 November 19, 2015
The Truth About Climate Change – Why Should We Care About Disappearing Arctic Ice?
(Download the presentation here.)
Dr. David Barber PhD, CRC, DP [MNRM/89, BPE/82]
Canada Research Chair in Arctic System Science, Centre for Earth Observation Science (CEOS), Clayton H. Riddell Faculty of Environment Earth and Resources, University of Manitoba

Arguably, one of the most significant challenges facing humanity today is that of the potential for 'dangerous' climate change.  Professor Barber will relay the current scientific framework for global climate change and provide evidence from his extensive Arctic research programs as to how climate change is currently manifesting itself, and what we expect in the future.
Dr. David Barber obtained his Bachelors (1981) and Masters (1987) from the University of Manitoba, and his PhD (1992) from the University of Waterloo, Ontario.  He was appointed to a faculty position at the University of Manitoba in 1993 and received a Canada Research Chair in Arctic System Science (www.chairs.gc.ca) in 2002.  He is currently Associate Dean (Research), CHR Faculty of Environment, Earth and Resources. Dr. Barber has extensive experience in the examination of the Arctic marine environment as a 'system', and the effect climate change has on this system. Dr. Barber has published over 200 articles in the peer reviewed literature pertaining to sea ice, climate change and physical-biological coupling in the Arctic marine system. He led the largest International Polar Year (IPY) project in the world, known as the Circumpolar Flaw Lead (CFL) system study. He is recognized internationally through scientific leadership in large network programs (e.g., NOW, CASES, ArcticNet, the Canadian Research Icebreaker (Amundsen), and CFL), as an invited member of several Natural Sciences and Engineering Research Council (NSERC) national committees (e.g., NSERC GSC 09; NSERC IPY, NSERC northern supplements, etc), international committees (GEWEX, IAPP, CNC-SCOR, IARC, etc) and invitations to national and international science meetings (e.g., Chinese Arctic and Antarctic Administration, Korean Polar Research Institute, American Geophysical Union (AGU), Canadian Meteorological and Oceanographic Society (CMOS), American Meteorological Society (AMS), American Society for Limnology and Oceanography (Spain), IMPACTS (Russia), European Space Agency (ESA, Italy), Arctic Frontiers (Norway), etc).
Dr. Barber was instrumental in a national competition to bring a Canada Excellence Research Chair (CERC) to the University of Manitoba in the field of Arctic Geomicrobiology and Climate Change.  As a member of the Centre for Earth Observation Science he leads a polar marine science group of over 100 people.  He has supervised to completion: six honours theses; 21 MSc theses; 19 PhD dissertations and 17 Post-Doctoral Fellows/Research Associates.  Twenty of his previous students have University positions and 33 work in research, consulting or government. He currently supervises nine MSc students; six PhD students, 19 Post Doctoral Fellows and Research Associates.
Recent Alumni Stories
Learn more about Moses (Moe) B. Levy's journey from student to entrepreneurial visionary
+
Learn about the journey of the principals of 5468796 Architecture Inc. from students to world-renowned architects
+
Learn about Tracie Afifi's journey from student to award-winning researcher
+