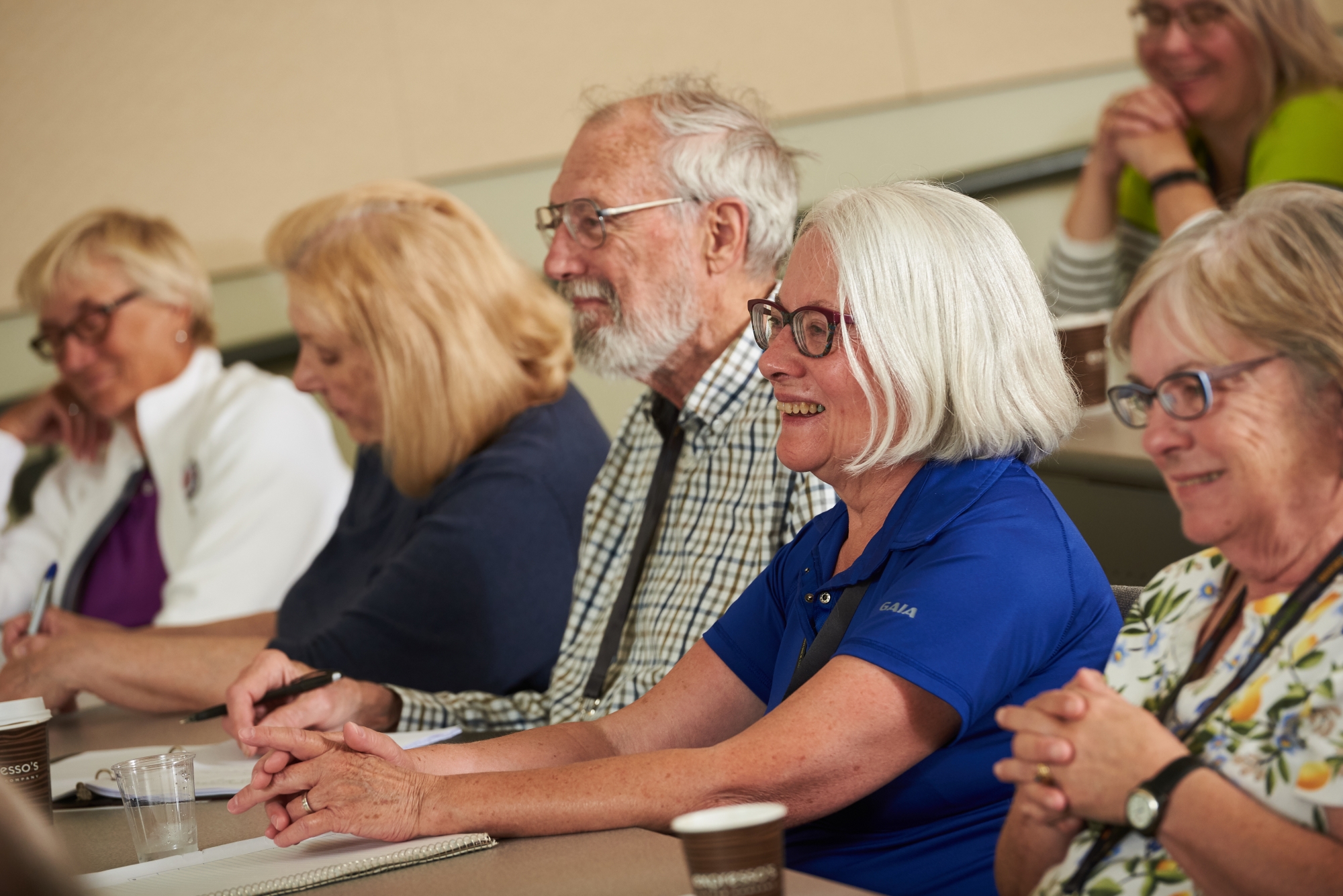 Seniors' Alumni Learning for Life Program
The Seniors' Alumni Learning for Life Program provides exclusive opportunities to explore new ideas, and hear from professors, researchers and fellow alumni who are innovators in their field. Engage in lively discussion with others who share your love of learning.
Fall 2019 Session
Registration is now open for the Fall 2019 session of the Seniors' Alumni Learning for Life Program! This exciting program of seven sessions is for seniors 60-plus and is open to alumni and friends of the University of Manitoba.
Thursday mornings from 10:00 a.m. – 11:30 a.m.
Runs September 12 until October 31
SEPTEMBER 12
TOPIC: TBD
Presenter: Dr. Cheryl Glazebrook, Acting Associate Dean, Research, Kinesiology & Recreation Management
SEPTEMBER 19
The Challenges of Polling: Thoughts on the 2019 Canadian Federal Election
Presenter: Dr. Christopher Adams, Rector, St. Paul's College
SEPTEMBER 26
How to Mend a Broken Heart
Presenter: Dr. Lorrie Kirshenbaum, PhD, FAHA, FIACS, FISHR, FFGTB, FCAHS Canada Research Chair in Molecular Cardiology, Director, Institute of Cardiovascular Sciences, St. Boniface Hospital Albrechtsen Research Centre Head, Division of Cardiovascular Science and Disease, Professor, Departments of Physiology and Pathophysiology, and Pharmacology and Therapeutics, Max Rady College of Medicine, Rady Faculty of Health Sciences, University of Manitoba
OCTOBER 3
Science and Art: Exploration, Imagination and Innovation
Presenter: Dr. Erwin Huebner, Professor Emeritus Department of Biological Sciences and "Artist in Residence" School of Art, University of Manitoba
OCTOBER 10
Senior's Mental Health
Presenter: Dr. Dan Chateau, Research Scientist, Manitoba Centre for Health Policy (MCHP), Assistant Professor, Department of Community Health Sciences
OCTOBER 24
What is musicology and what can it teach us about Louis Riel?
Presenter: Dr. Colette Simonot-Maiello, Desautels Faculty of Music
OCTOBER 31
Indigenous Health
Presenter: Dr. Marcia Anderson, Assistant Professor, Departments of Community Health Sciences and Internal MedicineExecutive Director, Indigenous Academic Affairs Ongomiizwin Indigenous Institute of Health and Healing
Questions?
If you have any questions, please call Alumni Relations at 204-474-9946 or email alumni@umanitoba.ca.
Highlights from the Seniors' Alumni Learning for Life Program