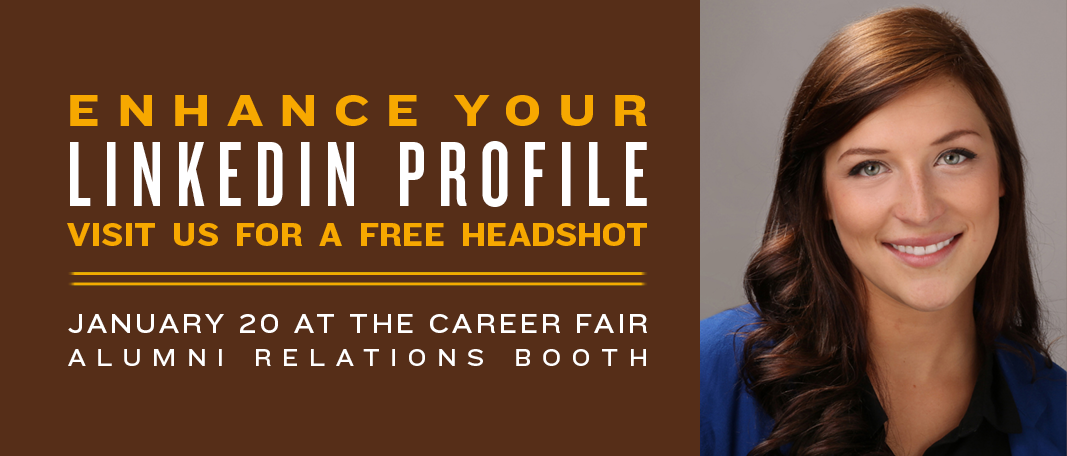 Get LinkedIn with Alumni Relations!
There can be some great advantages to having a LinkedIn profile and Alumni Relations is here to help you enhance yours.
Just follow these steps:
1. Get a FREE LinkedIn profile headshot
Dress your professional best and stop by the Career Fair on Wednesday, January 20 from 9:30 a.m. to 2:30 p.m. in Marshall McLuhan Hall. Visit our Alumni Relations booth for your free professional headshot!
2. Set up your profile
University of Manitoba Career Services offers LinkedIn workshops throughout the year. Please check careerCONNECT for dates and times. Remember to add that you are studying at the University of Manitoba within the Education section of your profile!
In addition, LinkedIn provides excellent podcasts on how to successfully set up your profile.
LinkedIn for Students: Top 5 profile To-Do's
LinkedIn Learning Webinars
3. Connect with us on LinkedIn
Find our University of Manitoba page on LinkedIn and click the 'Follow' button. It's a great way to keep on top of the latest U of M news and to find stories about University of Manitoba students, alumni and faculty.
Also take advantage of LinkedIn's great networking potential by finding and connecting with U of M students and alumni here.
Recent Alumni Stories
UM contingent of athletes, coaches and officials heading to Olympic Games includes students, staff and alumni
+
Published by Thomson Reuters, the internationally respected niche peer-reviewed law journal, Banking & Finance Law Review has of late been edited by the University of Manitoba, Faculty of Law's new Associate Dean (Juris Doctor program) Virginia Torrie, with help from a growing number of law students diligently working out of a virtual Robson Hall. Joined by students from several other law schools it is a truly collaborative experience.
+
In a half-century law career that has had him defend embezzlers and fraud artists, accused killers and everyone in between, Hymie Weinstein has amassed enough stories to fill a very heavy book.
+
Follow Us
Twitter: umanalumni
RT @umanitoba: As we see vaccine rates increase and case counts drop, we are on track for a phased return to in-person work and learning th…
Update on fall term at UM from President Benarroch: On track for full in-person operations for winter term, Preside… https://t.co/t73qxAWg9Y