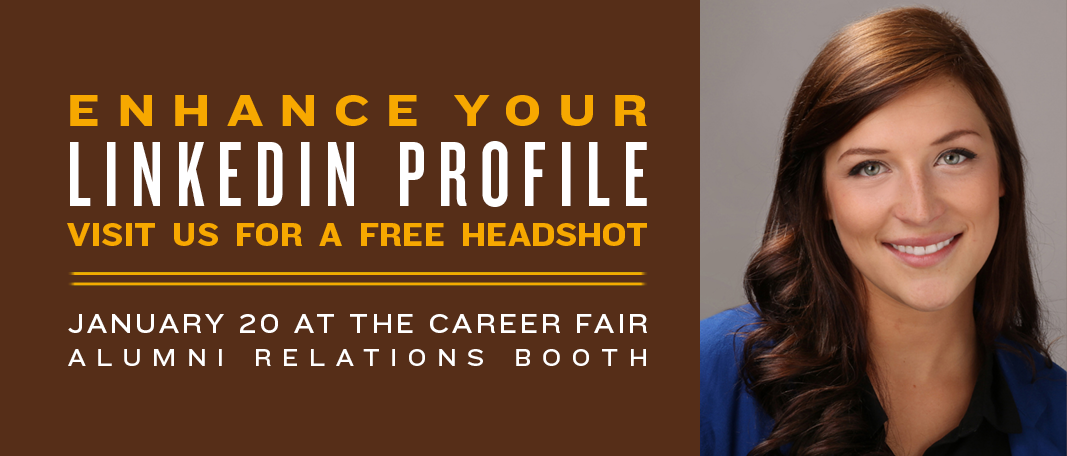 Get LinkedIn with Alumni Relations!
There can be some great advantages to having a LinkedIn profile and Alumni Relations is here to help you enhance yours.
Just follow these steps:
1. Get a FREE LinkedIn profile headshot
Dress your professional best and stop by the Career Fair on Wednesday, January 20 from 9:30 a.m. to 2:30 p.m. in Marshall McLuhan Hall. Visit our Alumni Relations booth for your free professional headshot!
2. Set up your profile
University of Manitoba Career Services offers LinkedIn workshops throughout the year. Please check careerCONNECT for dates and times. Remember to add that you are studying at the University of Manitoba within the Education section of your profile!
In addition, LinkedIn provides excellent podcasts on how to successfully set up your profile.
LinkedIn for Students: Top 5 profile To-Do's
LinkedIn Learning Webinars
3. Connect with us on LinkedIn
Find our University of Manitoba page on LinkedIn and click the 'Follow' button. It's a great way to keep on top of the latest U of M news and to find stories about University of Manitoba students, alumni and faculty.
Also take advantage of LinkedIn's great networking potential by finding and connecting with U of M students and alumni here.
Recent Alumni Stories
Excavating a snowy shelter is the perfect project for a Winnipeg winter afternoon. Dr. Gordon Giesbrecht shows you how.
+
Despite decades of success on the basketball court, Michele Sung [BKin/09] believes winning isn't the be-all-end-all for student-athletes.
+
An accomplished Faculty of Kinesiology and Recreation Management alumna with close to 20 years of event management experience, Robyn Stewart of the Western Canadian Music Alliance is the featured guest for episode three of the faculty's Alumni Speaker Series.
+