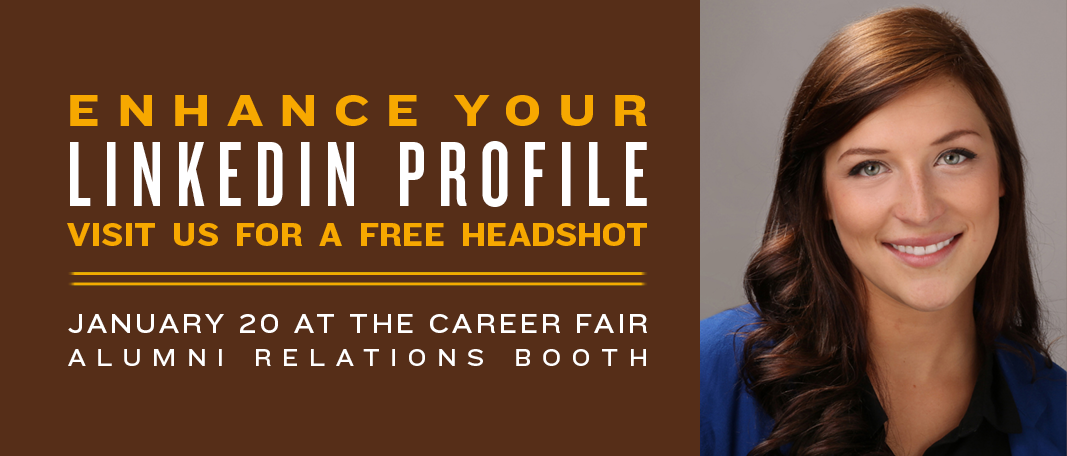 Get LinkedIn with Alumni Relations!
There can be some great advantages to having a LinkedIn profile and Alumni Relations is here to help you enhance yours.
Just follow these steps:
1. Get a FREE LinkedIn profile headshot
Dress your professional best and stop by the Career Fair on Wednesday, January 20 from 9:30 a.m. to 2:30 p.m. in Marshall McLuhan Hall. Visit our Alumni Relations booth for your free professional headshot!
2. Set up your profile
University of Manitoba Career Services offers LinkedIn workshops throughout the year. Please check careerCONNECT for dates and times. Remember to add that you are studying at the University of Manitoba within the Education section of your profile!
In addition, LinkedIn provides excellent podcasts on how to successfully set up your profile.
LinkedIn for Students: Top 5 profile To-Do's
LinkedIn Learning Webinars
3. Connect with us on LinkedIn
Find our University of Manitoba page on LinkedIn and click the 'Follow' button. It's a great way to keep on top of the latest U of M news and to find stories about University of Manitoba students, alumni and faculty.
Also take advantage of LinkedIn's great networking potential by finding and connecting with U of M students and alumni here.
Recent Alumni Stories
Responding to Call to Action #19, Wanda Phillips-Beck studied the health care policy known as "out for confinement".
+
The Rady Faculty of Health Sciences is pleased to welcome alumni back in person to campus to celebrate milestone reunions, university, faculty and college-wide events for UM Homecoming 2022, which takes place from September 21- 24, 2022. This year, 15 milestone class reunions from across Rady colleges are taking place!
+
Join the fun and free events at Homecoming 2022
+
Follow Us
Twitter: umanalumni
Such an inspiring evening - thank you to everyone who attended the Distinguished Alumni Awards 2022 tonight! And co… https://t.co/IxBPjdTlNQ
The first episode of "What's the Big Idea?" podcast dropped yesterday. President Benarroch talks with leading astro… https://t.co/XDvZXna0cX