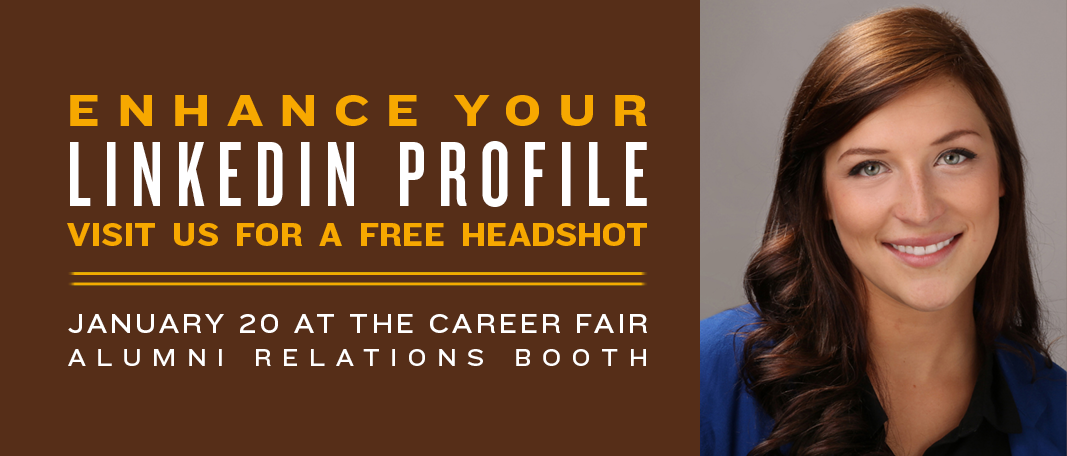 Get LinkedIn with Alumni Relations!
There can be some great advantages to having a LinkedIn profile and Alumni Relations is here to help you enhance yours.
Just follow these steps:
1. Get a FREE LinkedIn profile headshot
Dress your professional best and stop by the Career Fair on Wednesday, January 20 from 9:30 a.m. to 2:30 p.m. in Marshall McLuhan Hall. Visit our Alumni Relations booth for your free professional headshot!
2. Set up your profile
University of Manitoba Career Services offers LinkedIn workshops throughout the year. Please check careerCONNECT for dates and times. Remember to add that you are studying at the University of Manitoba within the Education section of your profile!
In addition, LinkedIn provides excellent podcasts on how to successfully set up your profile.
LinkedIn for Students: Top 5 profile To-Do's
LinkedIn Learning Webinars
3. Connect with us on LinkedIn
Find our University of Manitoba page on LinkedIn and click the 'Follow' button. It's a great way to keep on top of the latest U of M news and to find stories about University of Manitoba students, alumni and faculty.
Also take advantage of LinkedIn's great networking potential by finding and connecting with U of M students and alumni here.
Recent Alumni Stories
Melanie MacKinnon has been working tirelessly to advocate on the COVID-19 Pandemic Response team for First Nations communities in Manitoba
+
From April 19-23, celebrate Earth Day and Restore Our Earth by participating in virtual events and activities from home
+
Voting is now open to elect the next alumni representative on the University of Manitoba Board of Governors
+
Follow Us
Twitter: umanalumni
We're very excited to introduce the latest issue of UM Today The Magazine! A collection of stories with big ideas a… https://t.co/oWwKIa7xou
RT @WinnipegRHA: Curious about what to expect at your child's first dental visit? Watch this video by Healthy Smile Happy Child as narrate…