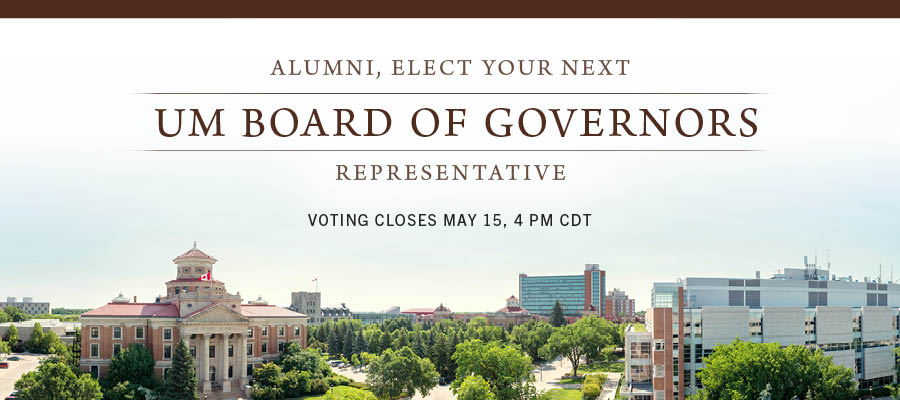 Board of Governors Alumni Representative
Voting is now closed
Public announcement of successful candidate: May 26, 2020
Thank you for casting your vote. Your participation in the Board of Governors alumni representative election is helping guide the direction of the University, make a difference in the lives of students and the community, and serve as a voice for alumni in UM governance.
Please contact Alumni Relations if you have any questions at: alumni@umanitoba.ca
Meet the Candidates
* indicates those who have been nominated by the Alumni Association Board of Directors.
† indicates those who have been nominated by alumni.
About the Board of Governors
The University of Manitoba's Board of Governors is responsible for overseeing the administrative and business affairs of the U of M, serving as the corporate governing body of the university. Its duties include approving the annual budget and appointing and monitoring the performance of the President and Vice-Chancellor.
U of M alumni elect fellow graduates to serve on three of the 23 University of Manitoba Board of Governors positions. Alumni elected to serve on the Board of Governors may do so for a maximum of three consecutive three-year terms. One of these term positions is ending.
Eligibility Requirements
To be eligible for the position, the candidate must be a graduate of the University of Manitoba and have a degree, diploma or certificate approved by the University of Manitoba Senate.
For more information about the Board of Governors, visit: umanitoba.ca/admin/governance/bog/index.html.
Voting is only available for University of Manitoba alumni. Please vote for only one individual. We are collecting information to verify your ballot and to update your contact information. Only ballots with completed information will be considered valid.
The voting period has now ended.
Follow Us
Twitter: umanalumni
RT @umanitoba: Masks were already mandatory on #umanitoba campuses but the message from the province today says they are now required even…
RT @umanitoba: .@AFPManitoba will recognize three leaders of the Front and Centre Campaign – @PSoubsII, Michael Nesbitt and @johnkearsey –…