Accomplishments: Fall 2018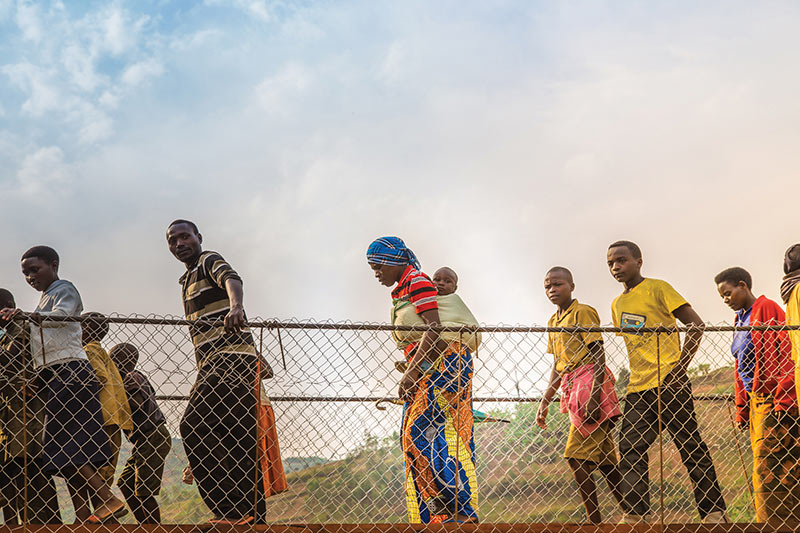 Bridge Builders
Two small, isolated communities in Panama and Rwanda used to fear the heavy rains. It meant residents couldn't safely wade across the rivers blocking their route to get to school or the local hospital.
Through an NGO called Bridges to Prosperity, University of Manitoba alumni helped build footbridges so locals could cross what otherwise are dangerous and impassable waters.
Denny Fehr [BSc(CE)/10] was among the volunteers who created a 47-metre suspension footbridge for a small community of rice farmers along the Rio Grande River. And in Muhanga District, Brandon Mills [BSc(CE)/06, MSc/10] helped bring to life the Rutaka Footbridge (pictured above).
"This build serves 5,000 people, allowing them to pass the Nyagako River, which floods eight weeks of the year, effectively severing the surrounding communities from access to life's necessities," says Mills. "Sadly, in recent years alone, four people have died and two have been injured trying to cross the river during peak flood season."
ORDER OF CANADA FOR OUR ALUMNI
Réal Bérard [DipArt/61]
For his contributions as a visual artist and cartoonist, and for his support of various fundraisers benefitting the Franco-Manitoban community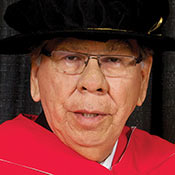 Harry Bone [LLD/13]
For his contributions to advancing Indigenous education and preserving traditional laws, and for creating bridges between Indigenous and non-Indigenous people and communities.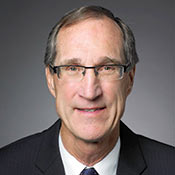 Thomas Erskine Feasby [BSc(Med)/69, MD/69]
For his visionary leadership at multiple Albertan academic and health institutions, notably for fostering excellence in neuroscience.
Richard Henriquez [BArch/64]
For his contributions to Canadian architecture, notably in shaping Vancouver's urban landscape
Roland François Mahé [DipArt/64, BFA/70]
For his contributions to the development of Franco-Manitoban theatre and drama, and for his commitment to ensuring the vitality of Francophone minority theatre in Canada.
---
GLOBAL JUSTICE
U of M law graduate Kimberly Prost [LLB/81] will preside over international cases of genocide and crimes against humanity in her new role with the International Criminal Court (ICC). Prost was recently elected a judge with the ICC, which sits in the The Hague in the Netherlands and has indicted figures like Libyan leader Muammar Gaddafi and Kenya president Uhuru Kenyatta.
---
EPIC TREK
A Winnipeg science and drama teacher who encourages his students to "find the poetry of science" has been named a Grosvenor Teacher Fellow by National Geographic.
Educator and slam poet champion Mike Johnston [BEd/06, MEd/13] was among two Canadians chosen for a unique global expedition to the Galapagos Islands aboard Lindblad expedition ships.
The Fellows learn alongside experts— from world-class photographers to undersea specialists—and bring experiential learning ideas back to the classroom.
"We are honoured to share with them some of the world's remotest and most pristine places to help fuel their passion to share knowledge, and the world, with their students," said Sven Lindblad.
---
CREATIVE CRAFT
Clay reinvents itself every time it's touched.
That's one of the reasons Jack Sures [BFA/57] loves the medium.
The ceramics artist was recently recognized with a Governor General's Award in Visual and Media Arts. He won the Saidye Bronfman Award, Canada's national prize for fine craft.
At 83, he says he's developed techniques that are very personal and untraditional—despite the traditional shapes they can produce.
"The creative process, if it's creative, is evolutionary," Sures said in a GGArts video. "I've always wanted to do my own thing. As an artist, I've wanted to be truly creative in doing things that I felt best expressed me. Not expressed ideas of our culture or other people's ideas."
---
Let's do this
What does it take to restore a giant grain elevator in rural Manitoba? A wacky plan, hatched over a couple of drinks by a bunch of seniors.
When Stu Breckon [BComm(Hons)/72, MBA/75] and his friends read that the 75-foot United Grain Growers elevator in Inglis was in desperate need of repair, they decided they'd take on the job themselves.
The crew—retirees age 66 to 87—set out to paint the towering structure, and the ambitious project caught the attention of the TV show Rick Mercer Report. Breckon told Mercer he had second thoughts but his friend quickly convinced them. "He says, 'I painted that elevator twice in my sleep last night—we're doing it.'"
Mercer helped apply the final touches, but not without complaining about the physical toll.
"No pain, no grain," Breckon quipped.
---
SONGSTRESS
Andriana Chuchman [BMus(Perf)/04] brought her powerful voice to the Atlanta Opera's production of Donizetti's La Fille Du Régiment.
The soprano recently headlined as Marie, a tomboy raised by a French army regiment.
"I love being onstage in anything I do. I feel like I come alive," Chuchman told Opera Wire. "My teacher would always say in my lessons that I would amp up my characterization when I am in front of an audience. The audience gives me life and encouragement."
Manitoba-born Chuchman grew up singing songs from The Sound of Music and Annie before falling for opera at the U of M. In 2015, she performed alongside Plácido Domingo during her Los Angeles Opera debut.
---
CORRECTION
In the fall issue, the former portfolios of Andrea Lyon [BA/84], deputy clerk of the Privy Council and deputy minister university champion of the University of Manitoba, should have read deputy minister of Agriculture and Agri-Food Canada, and associate deputy minister of Environment Canada.
---
IN MEMORIAM
A reminder that we have moved our In Memoriam listings online where they are easily searchable on any desktop or mobile device. The listings are updated monthly. Please visit umtoday.ca/memoriams
---
NOTES
Beiko, Samantha [BA/10] published her latest novel, Scion of the Fox, the first of a trilogy. Its sequel, Children of the Bloodlands, is set for release in September.
Chan, Don [BSc/81, MSc/84] was named Family Physician of the Year by the Alberta College of Family Physicians, for his tireless work to improve the lives of patients through his service and advocacy.
Clare, Diane E. [BN/80, MEd/93] received a YMCA-YWCA Women of Distinction Award for Education, Training and Mentorship. She was recognized for her advocacy of lifelong learning and technology use in the education of rural nursing students.
Clavelle, Karen [BMus(Hist)/83, CertEd/84, MA/97, PhD/05] released her debut book of poetry, lolaire. Through a myriad of voices, it tells the account of a historic maritime tragedy—the sinking of the HMS lolaire off the Scottish coast in 1919.
Delaney, Kiki [BA/69, LLD/11] was inducted into the Investment Industry Association of Canada Hall of Fame. She is president of Delaney Capital Management Ltd., one of the leading investment counselling firms in Canada.
Goldfarb, Sheldon [MA/86] has written a book about the students at the University of British Columbia, where he works as an archivist. The Hundred-Year Trek: A History of Student Life at UBC looks back through a century of student life, achievement and activism at UBC.
Hunter, Diane [BEd/89, PB CertEd/93] has published her fourth and fifth music books: Jesus Loves Me, a piano book with teacher accompaniment for elementary students; and Sacred Sounds, a book of hymns arranged for the intermediate student.
Hurme, Johanna [BEnvD/99, MArch/02], architect and outspoken advocate for modern urban policy, became the 121st Chair of The Winnipeg Chamber of Commerce. She is co-founder of 5468796 Architecture.
Hutchinson, Claire [MA/94], a screenwriter and producer, released her latest film, Lucky's Treasure, distributed by Pureflix and Universal.
Martin, Joe [BA/58, BA(Hons)/59] co-authored From Wall Street to Bay Street: The Origins and Evolution of American and Canadian Finance. Martin is a director at Rotman School of Management at the University of Toronto.
Pinder, Herb [LLB/70] was awarded an honorary doctorate of laws from the University of Saskatchewan. The successful entrepreneur, lawyer and former NHL player agent now works with a private equity business in early-stage oil and gas.
Rogge Rehders, Helma [BFA(Hons)/87] will be holding a solo show of new works this June at the Wayne Arthur Gallery in Winnipeg.
Sinclair, Murray [LLB/79, LLD/02] received the 2018 President's Award from the Canadian Bar Association. Senator Sinclair was recognized for his exceptional contribution to the legal profession and the public life of Canada. He was chief commissioner of the Truth and Reconciliation Commission and the first Indigenous judge appointed in Manitoba.
Sitar, Dan [BSc(Pharm)/66, MSc/68, PhD/72] was recognized as an Alumnus of Distinction by the University of Manitoba's College of Pharmacy. The Professor Emeritus was honoured for his service to his profession and community.
Sweet, William [MA/79] was recently elected to the Royal Society of Canada. He is a professor of philosophy at St. Francis Xavier University in Antigonish, N.S. His most recent book is Care of Self and Meaning of Life.
Turner, Susan D. [BES/82] was elevated to Fellow of the American Institute of Architects for her work in historic preservation. Fewer than three per cent of members of the American Institute of Architects receive this honour. She is an associate and historic preservation leader at Bailey Edward Design in Chicago. Her past restoration projects range from the Bank of Montreal at Portage and Main in Winnipeg, to Canada House in London's Trafalgar Square.
Zoerb, Debra [BA/92] became general manager of the Manitoba Theatre for Young People after six years as executive director of Folklorama.
---
Related Stories